52 Happy Mondays returns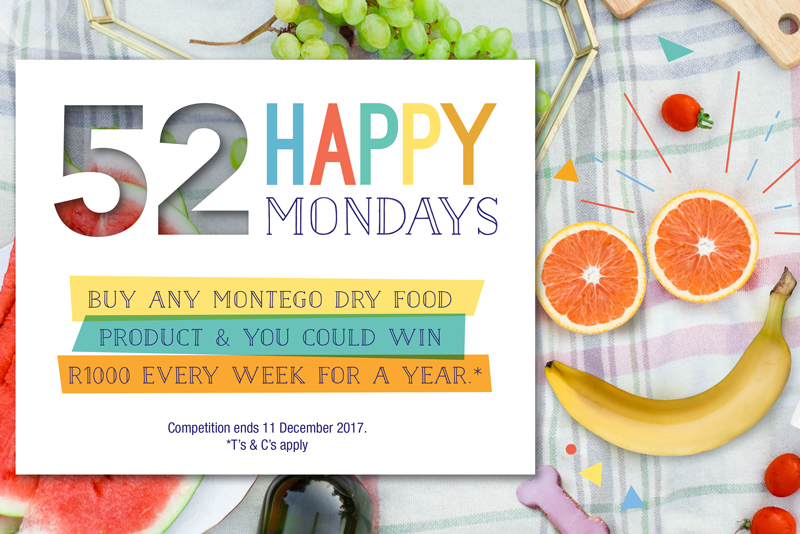 Our 52 Happy Mondays competition is so nice, we had to do it twice! Back in 2015, one lucky Montego customer won R1000 a week, deposited into their bank account, for a full 52 weeks. This year we're going even bigger with three lucky winners and each of them will win R1000 every Monday for 52 weeks!
To enter, all you'll need to do is find at least 1 of 52 Smiley Tokens hidden randomly in specially-labelled bags of Montego dry food (Monty & Me, Karoo and/or Classic Dog/Cat – all dry food variants and sizes), follow the token instructions and enter the draw.
Terms and Conditions:
The "52 Happy Mondays" competition runs till 11 December 2017.
The winners of the competition will be selected by means of random draw on 18 December 2017 and announced by no later than 20 December 2017.
Three random winners will be selected. The draw is final and no correspondence will be entered into.
52 x Happy Monday Smiley items/tokens will be available to find during the campaign dates. Entrants who find said tokens and submit their entry on or before 11 December 2017 will be entered into the random draw. No late entries will be valid.
The Smiley tokens will be available to find in any of the Montego Pet Nutrition dry pet food ranges including Monty & Me, Classic dry dog food, Classic dry cat food and Karoo products.
Only bags labeled with 52 Happy Mondays stickers could potentially contain Smiley tokens.
To enter for the random draw, customers need to find a Smiley token in their purchased product/s, follow the instructions on the token which are to email a photo of the token, the validation code on the token as well as their names and contact details to competitions@montego.co.za – Montego Head Office will then contact the entrants to validate their entry.
Should a customer be lucky enough to find 2 or more tokens he/she may enter that amount of times.
Each token will have a specific validation code which must be submitted upon entry. Customers also need to retain their proof of purchase as this could be required upon submitting tokens.
There is limited marked stock and Montego cannot guarantee that there will be marked products available in stores throughout South Africa.
This promotion/competition is only open to South African ID/Passport holders.
No employees, directors, agents, distributors or consultants and their immediate family members or anyone directly connected to or in the employment of Montego Pet Nutrition, its subsidiaries and business partners, associates, advertising and promotional agencies and staff members of the participating stores may take part in the competition.
The competition applies to purchases of Montego Pet Nutrition products in South Africa only.
Only three winners will be chosen in the 52 Happy Mondays promotion and will win R52 000 – Paid in R1000 installments, each Monday for 52 weeks (one year), directly deposited into their bank account.
Payment of the prize money will commence on Monday 8 January 2018 and end 52 weeks later on Monday 31 December 2018. Whenever reference is made to "a whole year" within this competition, this period entails 52 weeks.
Although Montego Pet Nutrition will do anything in its power never to delay payment, should an unfortunate circumstance arise in which a payment is missed or late, Montego will not be held accountable and the payment will be made as soon as possible thereafter.
The means of payment (of the prize) is not to be negotiated.
The winners will need to supply official proof of their bank account (cancelled check, bank letter or statement) by no later than 21 December in order to start their prize money deposits in time.
It is the responsibility of the winner to inform Montego Pet Nutrition of any change in information throughout the 52 weeks of installments.
Montego Pet Nutrition reserves the right to amend the terms and conditions of the promotion/competition at any time without prior notice.
By entering the competition, the winner automatically agrees to allow Montego Pet Nutrition to contact them or to use their full names for marketing purposes – the winner will be required to allow a Montego representative to take photos of them for the Montego Facebook page and other social media platforms.
Should you have any queries or questions, kindly e-mail us on competitions@montego.co.za or call us on 049 891 0825.