How to make a DIY dog toy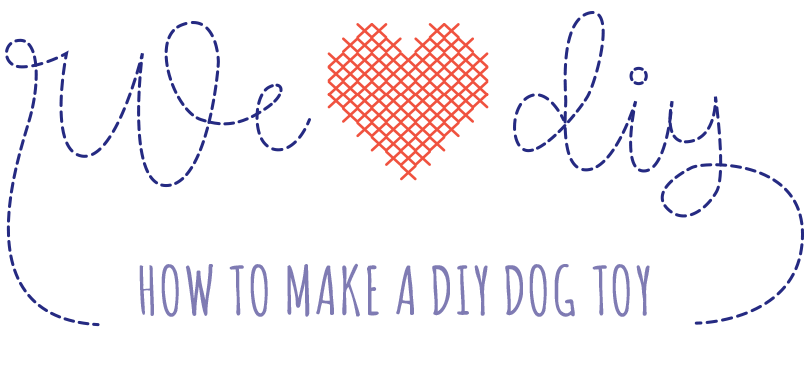 For those crafty pet parents who want to spoil their pups with homemade goodies, here is a fun way to make a DIY dog toy for your four-legged family. We've also created a step-by-step video for you to follow, so head on over to our YouTube Chanel to watch it for some extra guidance.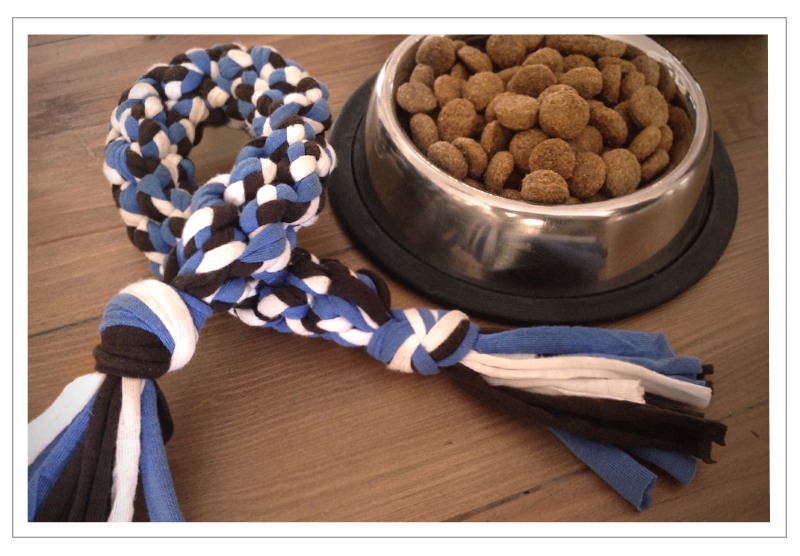 Three balls of different coloured T-shirt yarn – this can be bought online from Tarn. And a pair of scissors.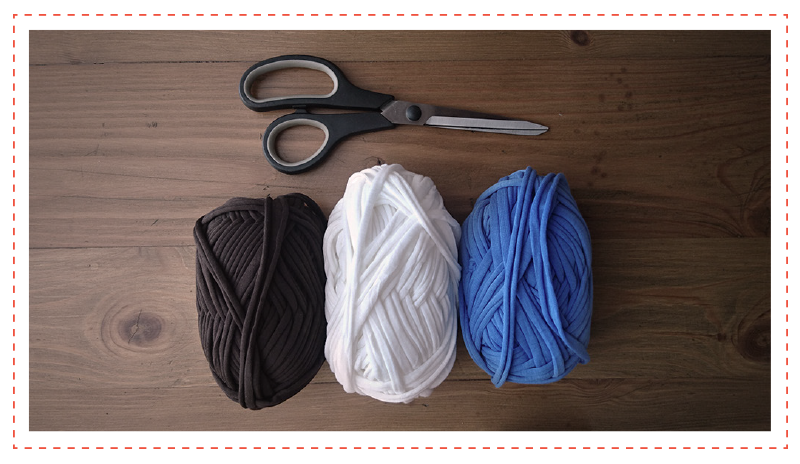 Cut four, 1.5 meters long strips from each ball of yarn.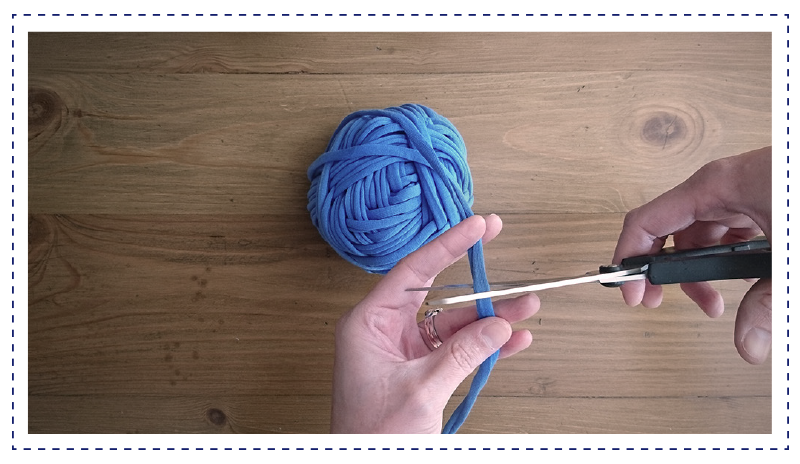 You will have 12 strips in total.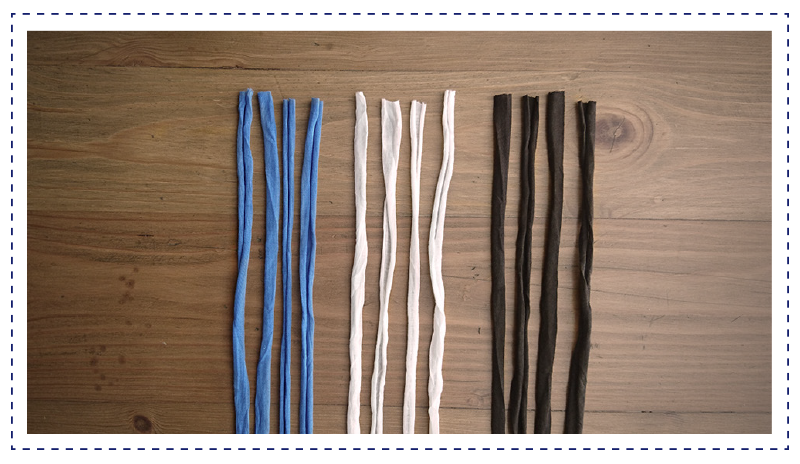 Divide the strips into four piles, with one of each colour in each pile.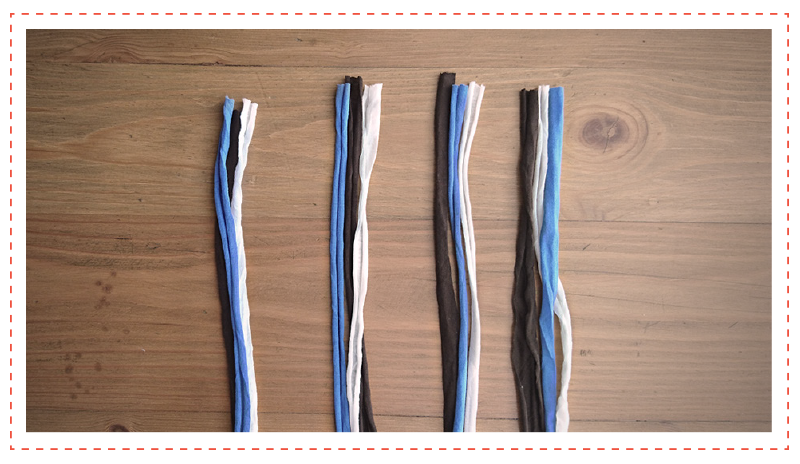 Bunch the piles together and tie them into a knot at one end. The knot should be around 5cm away from the ends.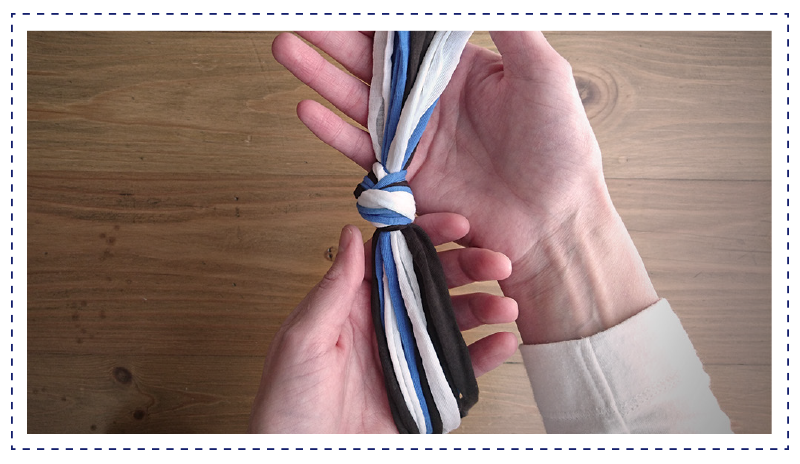 Divide your strips into threes (one of each colour) and braid them.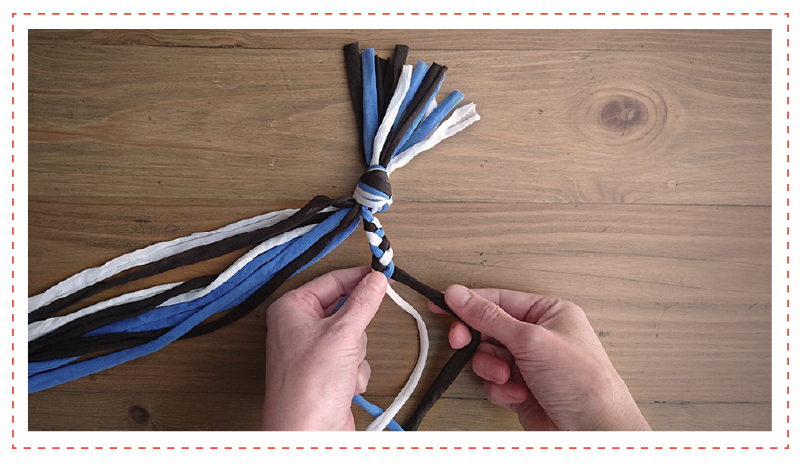 Tie the end of each braid into a knot about 5cm away from the ends. Once you've braided all the strips of yarn, you will have four complete braids.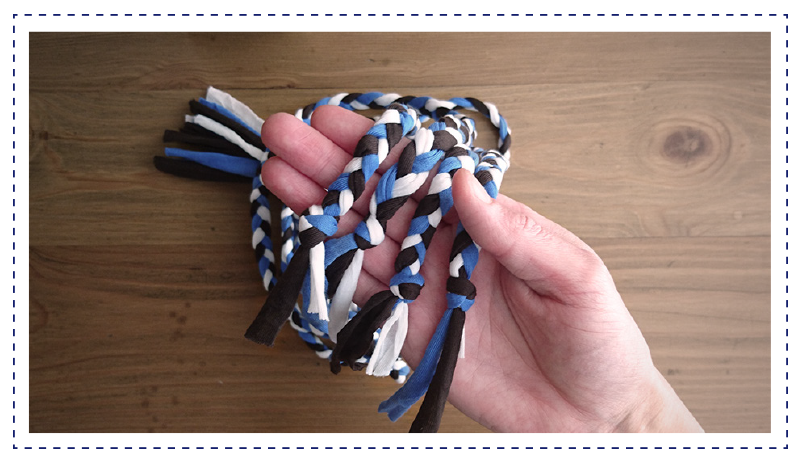 With the knot facing downwards in the centre, place the four braids into a cross by placing one braid up (1), one braid down (2), another braid right (3) and the last braid left (4).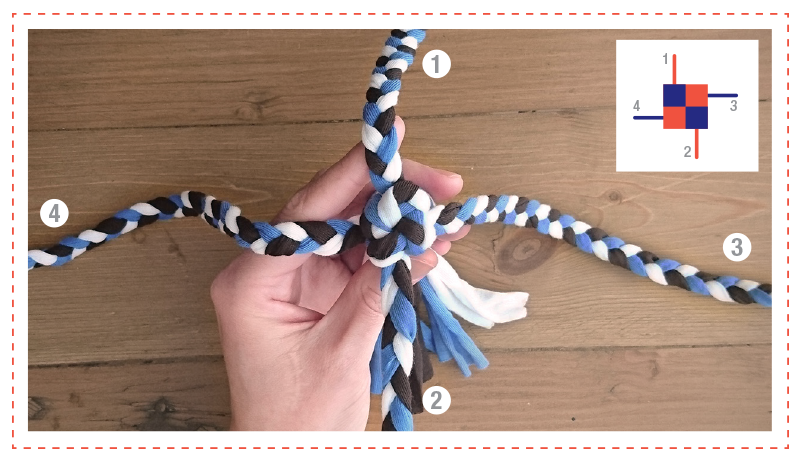 Bend the top braid (1) down over the knot to make one loop (the end of the braid will face towards you).

Pass the right (3) braid over the loop (1) nearest to it. Then pass the same braid under the second loop (2) farthest from it.
Then, pass the left (4) braid over the loop (2) nearest to it and then pass it under the second loop (1) farthest from it.
Pull all four braids to tighten the knot you have just created.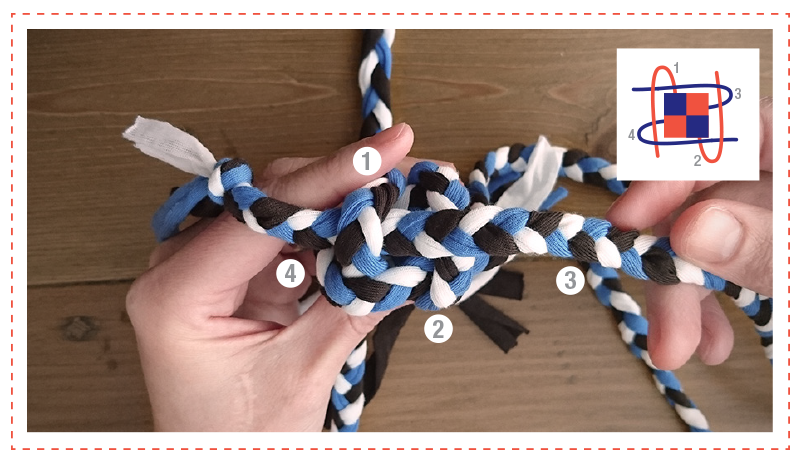 Place the four braids back into the cross you began with and repeat these steps until there is about 5cm left of the braids.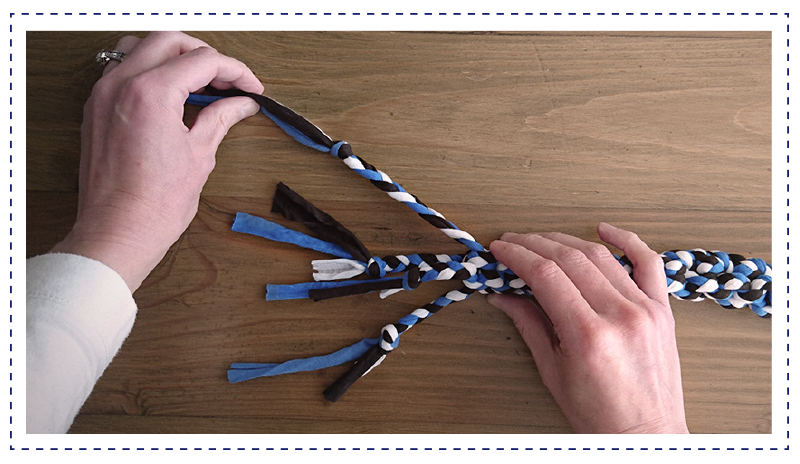 Once the scoubidou box knot is completed, untie the knots of the braids and loosen them.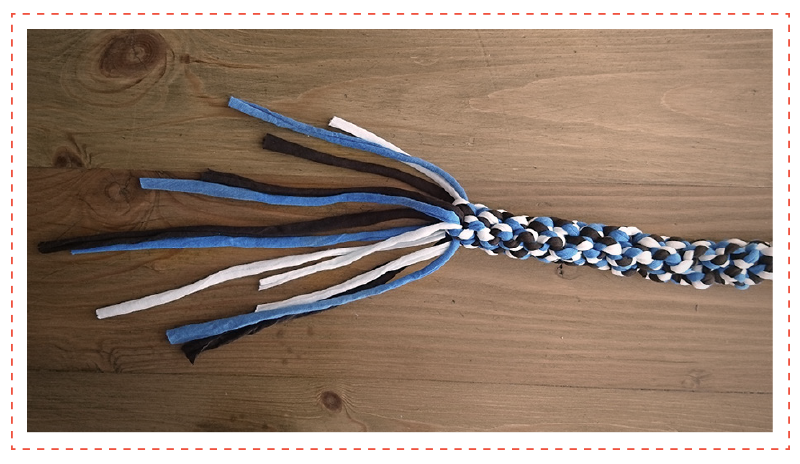 Bunch the loose yarn together and tie them in a knot. This knot should be like the knot you tied in step 4.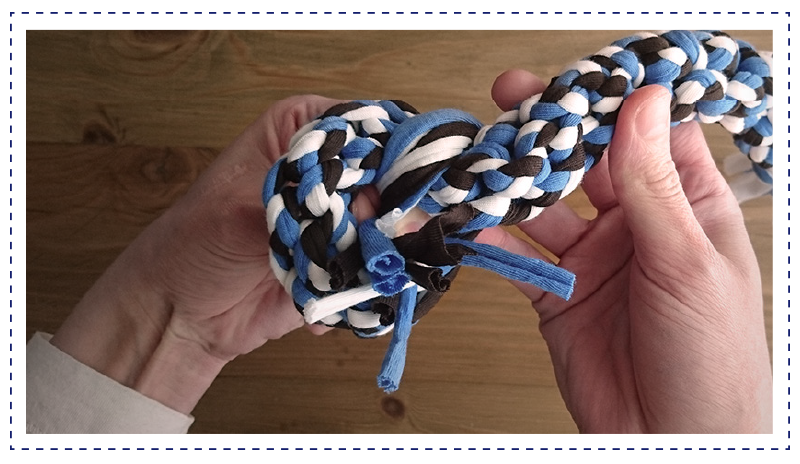 To neaten the ends of the knot, cut off the uneven yarn.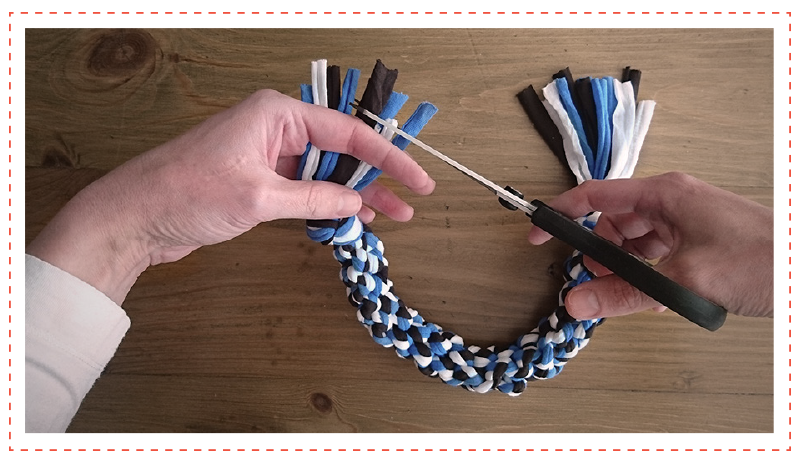 You're all done.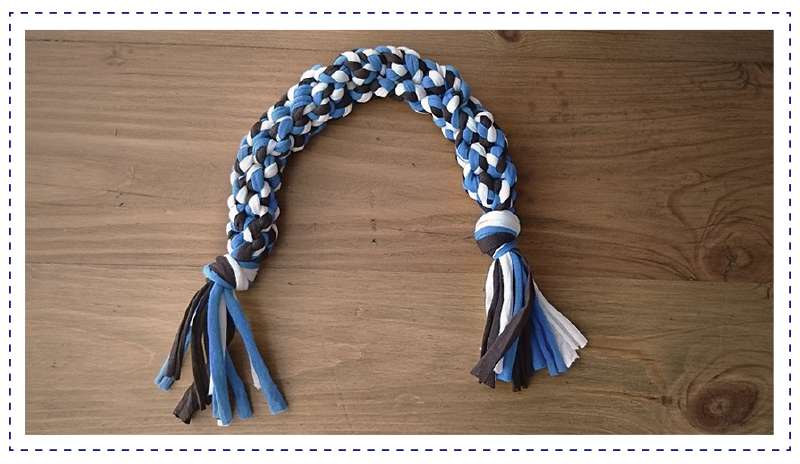 We hope you enjoyed making this DIY dog toy and we hope that your pooch will enjoy an epic battle of tug-of-war.
Because this toy is handmade, we recommend it be checked regularly to ensure that the knot hasn't come undone and that there are no loose ends.