Meet Princess Kimmy Bean
Heroic Tails 2016
Miracles do happen, and often when they do, they happen to the one's you least expect. Kimbal, a boxer blend, is one of them making her The Overall Hero of Heroic Tails 2016.
Blinded, burned and caught in a trap when Pat Barr-Sanders found her, there was little hope of survival for Kimbal. Despite the severity of Kimbal's circumstances, Pat Barr-Sanders committed herself to making the frail dogs last days as comfortable as she could.
Be it the medicine or the love, but after just two weeks of intense daily treatment, Kimbal miraculously began to recover. By day 15 of her treatment, the vets were amazed to discover that her eyesight had returned. Today, Princess Kimmy Bean is the joy of Pat's life and together they continue to overcome life's obstacles with confidence.
Well done Kimbal and Pat!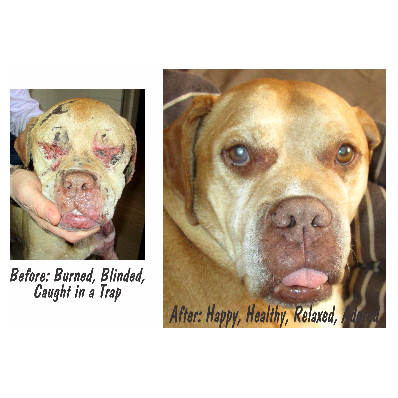 The rigorous process
With more than 100 entries received this year, our judging panel included Francois van Coke (Van Coke Kartel), Tim Mostert (Daily Sun Cartoonist), Wilfred Cawood (Marketing Manager, Montego Pet Nutrition), Kelvin Westraat ( Campaign Marketer  Montego Pet Nutrition) and Johan van Jaarsveld (Managing Director, Montego Pet Nutrition) had a big task ahead of them.  The competition was tight and tough decisions had to be made in choosing the finalists, after which the public voted for their winners, right here on our site.
The competition opened on 1 August 2016, with over R30 000's worth of prizes including Montego's delicious Karoo Dog Food up for grabs. This year, there were 4 categories including; The Saviour (Charity specific), The Survivor, The Companion and The Achiever – and one overall winner – The Hero.
The Winners
The Saviour
Molweni Animal Outreach (Silver winner)
This entry was on behalf of Molweni Animal Outreach volunteer, Elaine Cairns, who at the age of 81 makes a daily trip to the township of Molweni, together with her dedicated assistant called Doctor. The two saviours set out each day to find animals in Molweni (KZN) in need of veterinary care.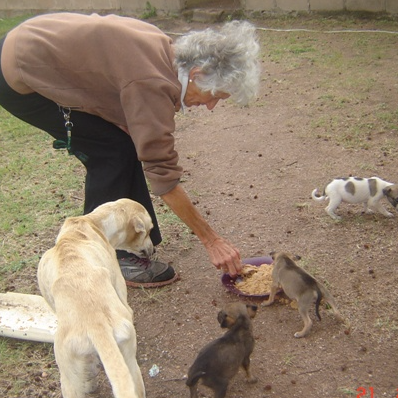 The survivors
Kimbal (Gold/Hero winner)
Bismarck (Silver winner)
Rescued on 11 September 2015 from the streets of Krugersdorp West, it was clear from the wounds on his body that Bismarck was used as a bait dog. However, this dog wasn't ready to give up on life. During his first big surgery, his heart stopped, but he kept fighting!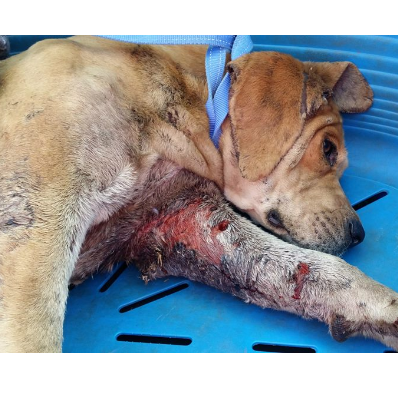 The Companions
Red (Gold winner)
In December 2011, the Swanepoel Family went to FORA (Friends of Rescued Animals) looking to adopt a dog, but came home with five instead! Red was a small brown puppy, only 6 weeks old, hand-picked by Walt Kotze (8) to be his dog. Red grew into the most amazing and enthusiastic companion that a boy with Autism Spectrum Disorder (ASD) could ever ask for.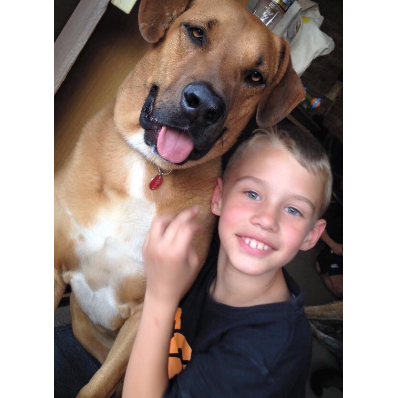 Kibo (Silver winner)
Andrew Dijkstra noticed that the only way to help manage episodes of depression, that he frequently suffers from, is to get out and exercise. "I discovered many years ago that whatever is produced by the body during exercise, can have a positive effect on a person's mind," he explains. Then Kibo, his Australian Cattle Dog, became his running companion with energy and an intense loyalty that made the trail runs change from mere therapy to incredible joy.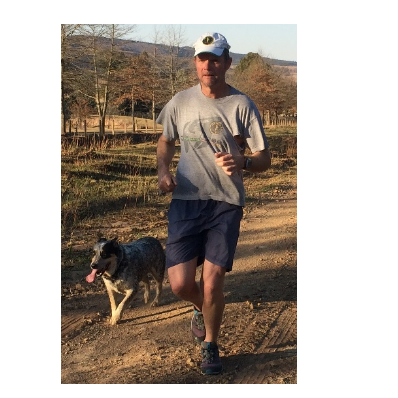 The Achievers
Candy (Gold winner)
This is the story about Candy, a dog that became a surrogate mother to three baby genets at the DAKTARI Bush School & Wildlife Orphanage, a non-profit in the Limpopo province.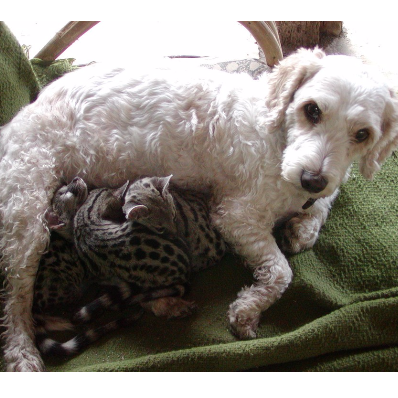 Bobby and Stark (Silver winner)
On their way to do their daily afternoon job of rounding up the sheep, Bobby and Stark went with their owner, Andrea, who was on horseback. Andrea had a nasty fall off her horse, which left her unconscious for a while. Bobby, the fastest one of the two, ran home and straight into the stables where Riaan was feeding the horses. The dogs never go into the stables, so Riaan immediately knew something was wrong. Bobby helped Riaan find Andrea, where Stark had been gently licking Andrea's face till she regained consciousness.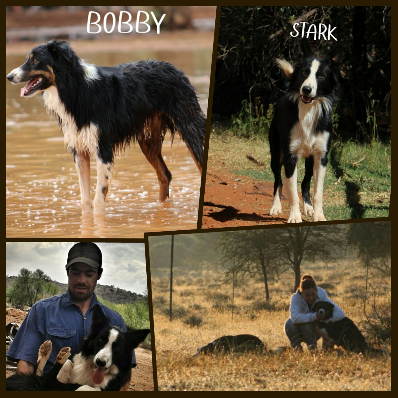 Congrats to all our entrants, finalists and winners. We encourage each and everyone to cherish their pets for the selfless love that they give us and to spare a thought for those that are uncared for. Let's all celebrate the lives of dogs and try especially hard to make the world a better place for them.