Highly nutritional and fully balanced, our delicious adult dog and puppy food is made for canines of all breeds and size.

Perfectly balanced, thoroughly satisfying and highly digestible nutrition for your pets in every delicious mouthful.

Scientifically formulated, super premium pet nutrition that caters for the advanced needs of your dog.
Between our own expertise and insight from a leading authority on SA pet nutrition, Montego Classic's formulation and production process has been refined and perfected over time. This is how we know Montego Classic provides the balance, digestibility and delicious flavor that Montego pets of all ages and their owners throughout South Africa rely on every day for energy, wellbeing and happiness.
Classic Small to Medium Breed and Large to Giant Breed Puppy, Adult and Senior available in 2kg, 5kg, 10kg and 25kg bags. Classic Kitten available in 1kg and 3kg bags. Classic Adult Cat available in 1kg, 3kg, 5kg and 25kg bags.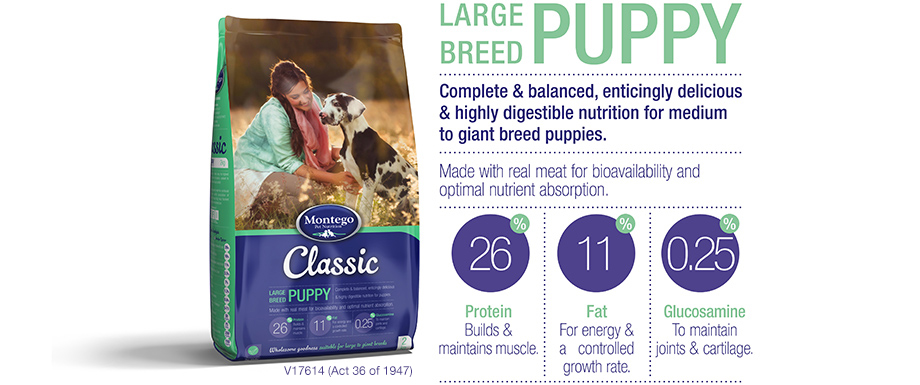 Why should my puppy's breed influence my choice of puppy food?
Because puppies must eat today for the dogs they'll be tomorrow…
The journey from puppy to adulthood is a special and crucial time in a dog's life. Feeding a puppy incorrectly could affect their health in a number of ways, including obesity and malnutrition. So, before deciding on a food for your new pup (as well as just how much to feed them), you must consider the weight they'll be when fully grown. Breeds vary in both growth rates and mature weights. So when it's time to eat, pups need a diet, rich in the essential ingredients required to grow happily into the dog they'll eventually become.
Every day, Montego pets and owners throughout South Africa depend on Montego Classic for energy,
well-being and happiness because every bite contains:

26% Protein
for strong bones.
Builds muscles and promotes healthy growth for ideal body condition and all-round performance.

Omega 6 & 3 for a
healthy skin & coat.
Balanced Omega 6 & 3 fatty acids may help nourish skin – promoting healthy skin and a soft, shiny coat!

Reduced fat for growth
& weight control.
Decreased energy content compared to regular puppy food helps to control the growth rate and weight of larger breed puppies.

Calcium and Phosphorus for
skeletal development & maintenance.
Provide the Calcium & Phosphorus to help develop and maintain the growing skeletal systems of large breed puppies.

Natural Glucosamine & added Chondroitin for cartilage & joints.
Natural Glucosamine sourced from Chicken and added Chondroitin support the production & maintenance of healthy cartilage as well as joint lubrication.

Essential minerals &
vitamins for immune support.
Contains antioxidants and vitamins that puppies need to boost their developing immune systems keeping them healthy and strong!