Highly nutritional and fully balanced, our delicious adult dog and puppy food is made for canines of all breeds and size.

Perfectly balanced, thoroughly satisfying and highly digestible nutrition for your pets in every delicious mouthful.

Scientifically formulated, super premium pet nutrition that caters for the advanced needs of your dog.
Between our own expertise and insight from a leading authority on SA pet nutrition, Montego Classic's formulation and production process has been refined and perfected over time. This is how we know Montego Classic provides the balance, digestibility and delicious flavor that Montego pets of all ages and their owners throughout South Africa rely on every day for energy, wellbeing and happiness.
Classic Small to Medium Breed and Large to Giant Breed Puppy, Adult and Senior available in 2kg, 5kg, 10kg and 25kg bags. Classic Kitten available in 1kg and 3kg bags. Classic Adult Cat available in 1kg, 3kg, 5kg and 25kg bags.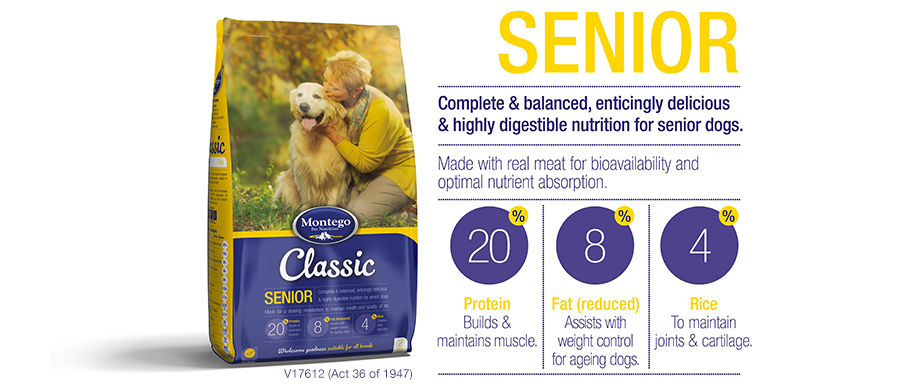 Why is a senior diet important?
When dogs reach senior age, their metabolisms slow down, as do their activity levels. Nutrition is of significant importance at this stage and plays a vital role in maintaining the health, longevity and quality of life of your companion.
At what age is my dog considered senior?
The larger the breed, the earlier you should switch to a senior diet. For large breed dogs (35kg+), this can be from as early as 6 years of age. For small (up to 10kg) and medium (10kg to 35kg) breeds this is from 7 to 8 years of age.
Every day, Montego pets and owners throughout South Africa depend on Montego Classic for energy,
well-being and happiness because every bite contains:

20% Protein for a
strong body.
High-quality, easily digestible animal proteins and amino acids derived from real chicken help to maintain strong muscles and a healthy body.

Animal fats & vegetable oils for
a healthy coat and joint relief.
Balanced essential fatty acids promote a thick, shiny coat and nourished skin whilst promoting a healthy weight, reducing stress on ageing joints.

4% Rice for easily
digestible energy.
Carbohydrates primarily from rice, in combination with maize, are easy on ageing digestive systems and release energy throughout the day.

Amino acids
for metabolism.
Added amino acids, such as L-Lysine and DL-Methionine, play an important role in sustaining the metabolism in older dogs.

Limited Phosphorous &amp: added
Biotin for internal health.
Restricted Phosphorous reduces stress on ageing kidneys while added Biotin, which helps to control blood glucose levels, minimises numerous risks.

Antioxidants & vitamins
for immune support.
Age-appropriate levels of Vitamin C & E fight free radicals, support a stronger immune system and promote daily cell renewal.