Highly nutritional and fully balanced, our delicious adult dog and puppy food is made for canines of all breeds and size.

Perfectly balanced, thoroughly satisfying and highly digestible nutrition for your pets in every delicious mouthful.

Scientifically formulated, super premium pet nutrition that caters for the advanced needs of your dog.
Using nutrient-rich meat and poultry proteins, added vitamins (including C, D and E) and minerals – as well as high levels of antioxidants – in every enticing, balanced bowl, supports overall physical well-being and helps maintain a healthy immune system. Pets are family and deserve the very best – enabling our customers to provide an optimally nutritious diet for their dogs, is the Montego Karoo promise.
Karoo Puppy, Adult and Senior available in 1.75kg, 8kg and 20kg bags.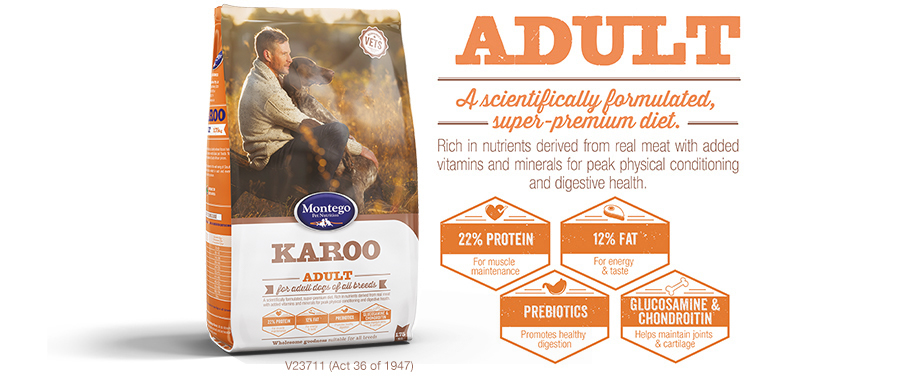 Montego Karoo Adult's ultra-premium formulation uses nutrient-rich proteins, Sugar Beet Pulp, added vitamins and minerals (Incl. C, D & E) as well as high levels of antioxidants.
This ensures that every bowl sustains energy in a fully-grown body and contributes to overall conditioning and immune-system support for dogs at the peak of physical development.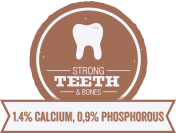 Karoo kibbles have a satisfyingly crunchy texture and contain essential minerals for maintaining strong teeth & bones.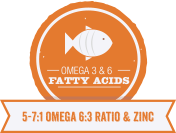 Omega 3 & 6 fatty acids and zinc provide dermal support, nourishing the skin for a glossy, healthy coat.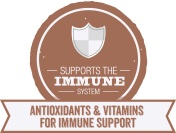 Contains the antioxidants and vitamins dogs need to help boost their immune systems and keep them healthy and strong!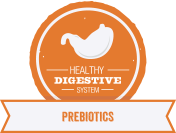 Added Prebiotics such as Inulin and Sugar Beet Pulp, promote digestive health for peak conditioning – inside and out.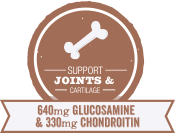 Glucosamine derived from the high-quality proteins including ostrich and lamb and added Chondroitin, maintain fully developed joints and cartilage.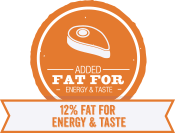 Added fat not only provides sustained energy for your dog, but also makes it absolutely delicious!.