Help name our Bags O' Wags mascots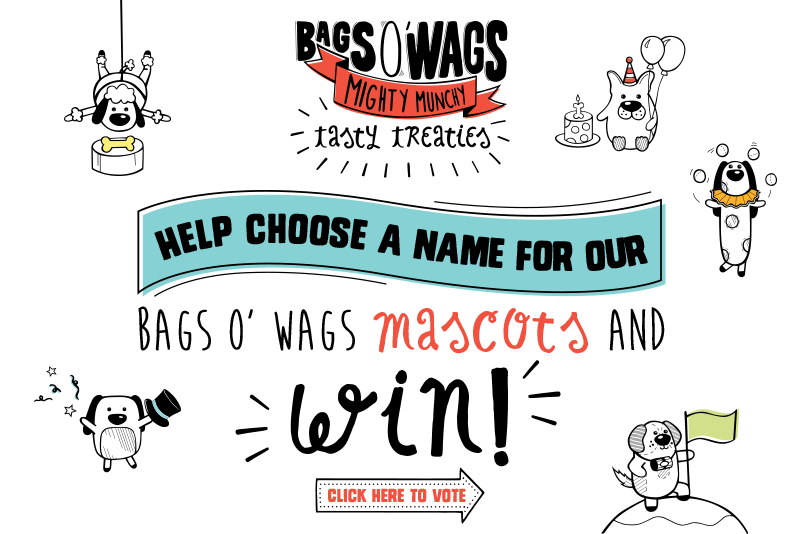 Our Bags O' Wags range has a treat for even the fussiest of dogs, even those flashy dogs, like our Bags O' Wags mascots. But each of these little fellas don't have names. Help us name our wagtastic friends by voting for one of the options provided on our Facebook page and you could win a Bags O' Wags hamper.

Competition Terms and Conditions
The Bags O' Wags Facebook competition starts on the 15th of May 2017 and closes 24th of May 2017. No late entries will be valid.
The winners will be selected by means of a random draw and no correspondence will be entered into.
The winners of the competition will be announced on the 25th of May 2017 and be contacted via Facebook. Should the winners fail to answer the Facebook post within three days he/she will forfeit the prize and a new winner will be drawn.
This promotion/competition is open to all South African ID/Passport holders. If necessary, the winners will be required to submit proof of citizenship in order to claim his/her prize.
The competition requires a person to vote for one of the name options provided on our Facebook page.
Three winners will be drawn in the Bags O' Wags Facebook competition and each winner will win a Bags O' Wags Hamper.
Montego Pet Nutrition will not be held liable for any possible defects/damages to prizes in the delivery process.
The prize is not redeemable for cash. Montego Pet Nutrition will courier the prizes to each winner.
Montego Pet Nutrition reserves the right to amend the terms and conditions of the /competition at any time without prior notice. Please keep an eye on the Montego Pet Nutrition Facebook page for updates regarding the competition.
By entering the competition, the winners automatically agrees to allow Montego Pet Nutrition to contact them or to use their full names for marketing purposes – the winner will be required to allow a Montego representative to take photos of them and/or conduct an interview for any social media and/or print media pages/publications.
No employees, directors, agents, distributors or consultants and their immediate family members or anyone directly connected to or in the employment of Montego Pet Nutrition, its subsidiaries and business partners, associates, advertising and promotional agencies and staff members of the participating stores may take part in the competition.
Should you have any queries or questions, kindly e-mail us on competitions@montego.co.za  or call us on 049 891 0825.