Our 6th Annual Click 2 Feed is here!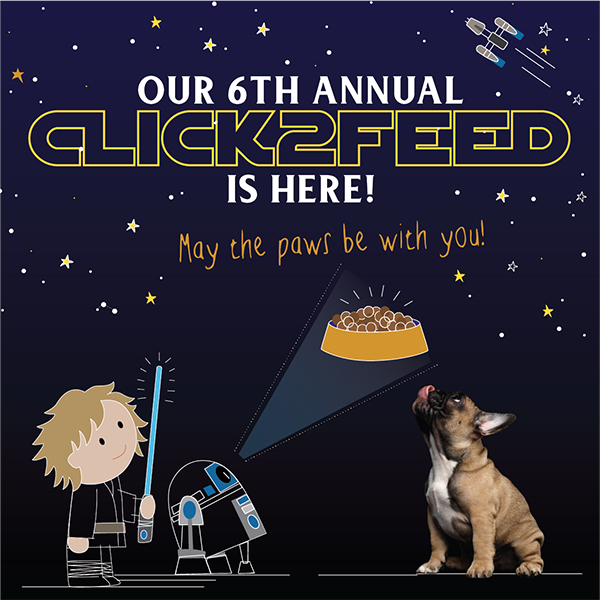 A long time ago in a pet nutrition factory far far away – 2012 in Graaff-Reinet to be precise – the Click 2 Feed master plan to vanquish the hunger of less fortunate pets was born. This year, it's the revenge of the sixth, and once again, we'll be donating 20 000 meals to hungry pets throughout South Africa from the 4th of December 2017. To help us get those meals where they belong, simply follow this link to click on the charity that you'd like to support. If you want to help us give more you can also join the Montego alliance and become a Click 2 Feed Sponsor.
How to become a Click 2 Feed Sponsor
TERMS AND CONDITIONS
Cash donation instructions and terms:
Cash donations will only be accepted from 4 December until 19 December 2017.
No late donations for Click2Feed will be accepted after the 19th of December. Any payments made after the deadline will be added to the fund of the 2018 Click2Feed campaign. Should you be interested in further cash donations other than Click2Feed you can contact Bronwen at the Montego Pet Nutrition Head Office at 049 891 0825.
Please be wary of spam and fraud – Montego Pet Nutrition will not communicate this account number on any other platform than the Montego website. Please ensure that you only pay money into the Click2Feed account as instructed on www.montego.co.za.
Montego Pet Nutrition takes no responsibility for faulty payments. All payments are non-refundable.
Please ensure that you use only your initials and surname as a reference.
Please forward your proof of payment to online@montego.co.za with the subject line: Click2Feed Donation.
Only EFT transfers will be accepted.
No donations can be made to a specific charity via this account, the money donated will contribute to the total amount of "meals" or "clicks" remaining.
Payments can only be made in increments of R100. For example: R100 (which is the minimum) R400 or R1500. For administrative purposes, please do not pay outside of R100 increments.
Each R100 donated will allocate 50 meals (or clicks) which will be added to the total clicks remaining for the campaign.
If you are younger than 18 years of age please do not donate without the consent of your parent/s or guardian/s.
The campaign will end once all clicks have been allocated after the 19th of December 2017.
Should you have any questions you can email online@montego.co.za with the term Click2Feed in the subject line.
General:
Clicks are counted and tallied by an automatic computerised system.
All results are final and no correspondence will be entered into.
Montego accepts no responsibility for any flaws in the counting system. We will endeavour to fix any flaws sufficiently.
Food may not be exchanged for cash or anything else.
Montego will deliver donations before 31 January 2018 where possible. If Montego fails to deliver before this date, delivery will be done as soon as possible.
One click equals 175 grams of Montego Classic Adult. This is calculated as being one meal for a medium sized adult dog with normal activity levels.
Each "Clicker/person" is allowed only one click per day.
Once the meal basket is emptied after final donations have been received on 19 December 2017, the campaign will end.
Each charity will receive a total weight of Montego Classic Adult as calculated: Total amount of received Clicks x 175 grams.