Our 7th Annual Click 2 Feed is here!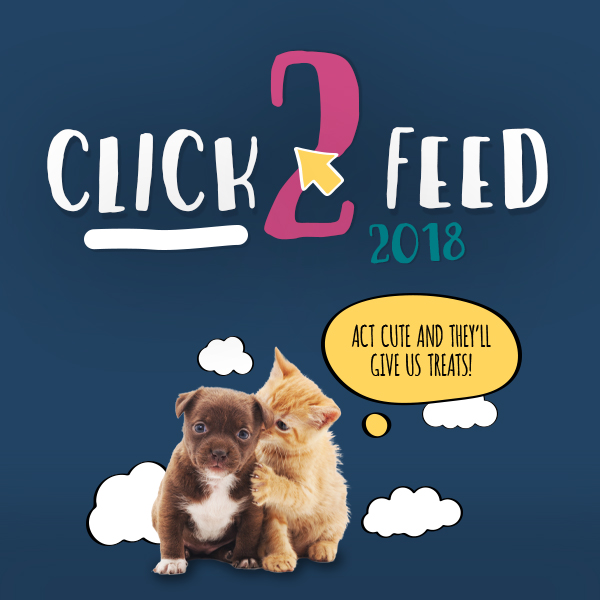 This year's theme is Helping Hands because we've invited a few of our good friends to help us reach our goal of giving away a whopping 11,15 Tons of food to our participating animal charities. The drive will run from 3 December once again, it's time to use your clicks for good by helping us decide where all the meals go.
Ready to donate a meal? Click here, it's free.
TERMS AND CONDITIONS
Click2Feed 2018 will consist of an initial contribution of 22 858 meals (4 Tons) sponsored by Montego, as well as 40 859 meals (7,15 Tons) sponsored by our 11 partners for 2018 for a total of 63 717 meals (11,15 Tons) donated to charity in this year's campaign.
Each partner sponsorship contributes a minimum of 3143 meals toward the total refer to our daily social posts in the campaign to see how many meals each generous sponsor has contributed to the Click2Feed cause.
No further donations/partners for Click2Feed 2018 will be added. Should you or your business be interested in becoming involved in future charity projects, please email to online@montego.co.za with subject line: Sponsorship offer.
No public or individual donations will be accepted for Click2Feed 2018. If you, as an individual, would like to help with any other future Montego Charity initiatives, please email online@montego.co.za with subject line: Charity assistance.
Clicks are tallied by an automated computer program. Montego accepts no responsibility for any flaws in the counting system and will endeavour to fix any flaws sufficiently.
All results are final, and no correspondence will be entered into.
Food may not be exchanged for cash (or anything else).
Montego will deliver donations before 31 January 2019 where possible. If Montego fails to deliver before this date, delivery will commence as soon as possible thereafter.
One click equals 175 grams of Montego Classic Adult. This is calculated as being one meal for a medium sized adult dog with normal activity levels.
Each "Clicker/person/participant" is allowed only one click per day.
Once the meal basket is emptied after the final sponsored clicks/meals are added on 24 December 2018, the campaign will remain active until all meals have been allocated to charities or 4 January 2019 (whichever comes first) – the counter will be stopped on this date and only the current total meals/clicks will be donated.
Each charity will receive a total weight of Montego Classic Adult as calculated: Total amount of received Clicks x 175 grams – slight rounding would be implemented for logistical purposes.
The chosen charities on the list are final and chosen on basis of merit. Unfortunately, no additions may be made. To nominate your charity for any future projects please email online@montego.co.za with subject line: Charity nomination.
Montego reserves the right to remove a charity should foul play be identified. Should a charity be removed, their "clicks" will be added to the available clicks for reassignment by the voting public.
The 11 x 2018 Click2Feed sponsors/partners are business entities in their own entirety – Montego Pet Nutrition does not necessary support the views of these firms.
Should you have any further questions, please email online@montego.co.za with subject line: Click2Feed2018.