Rich in high-quality proteins, vitamins, minerals and essential fatty acids, Classic Wet Food provides complete & balanced nutrition for puppies and adult dogs in four mouth-watering flavours – Juicy Steak in Deliciously Rich Gravy, Succulent Beef & Wholesome Veggies, Tender Chicken & Nutritious Veggies for adult dogs and easy-to-chew Tender Chicken & Soft Cooked Rice for puppies.
Classic Puppy wet food available in 385g tins. Classic Adult wet food available in 385g and 775g tins.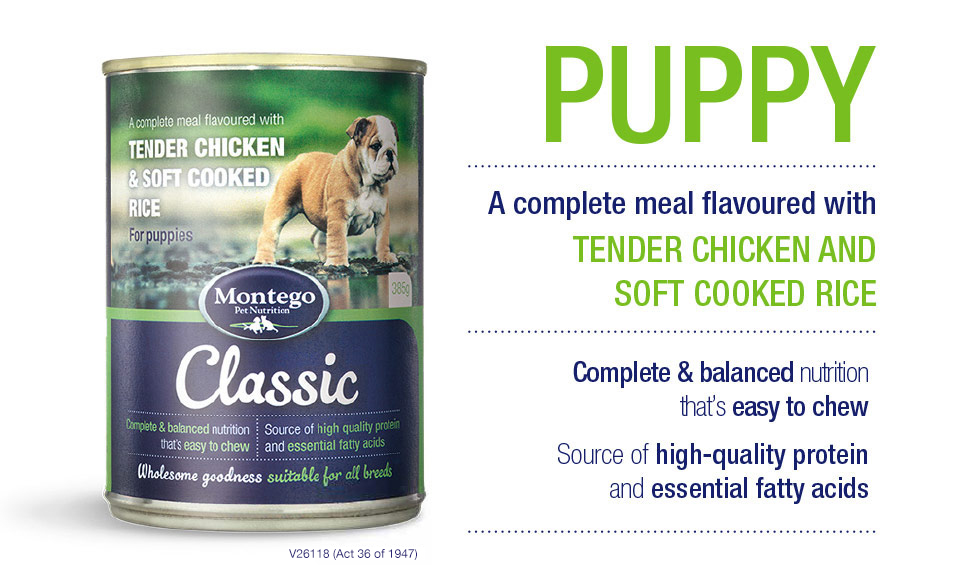 Classic Wet Food provides a complete, balanced and enticingly delicious meal, or a tasty complement to your dog's daily dry food diet.
Serve on top, mixed in or on its own – however they like it!

26.5% Protein for
strong bones.
Builds muscles and promotes healthy growth for ideal body condition and
all-round performance.

Vitamin C & E for
immune support.
Added vitamins fight free radicals, developing strong immune systems and promoting daily cell renewal.

12% Fat for
abundant energy.
Extra fat gives puppies the necessary energy they need every day and nourishes their growing bodies!