Win 1 of 3 dream Karoo holiday experiences valued at R50 000 each!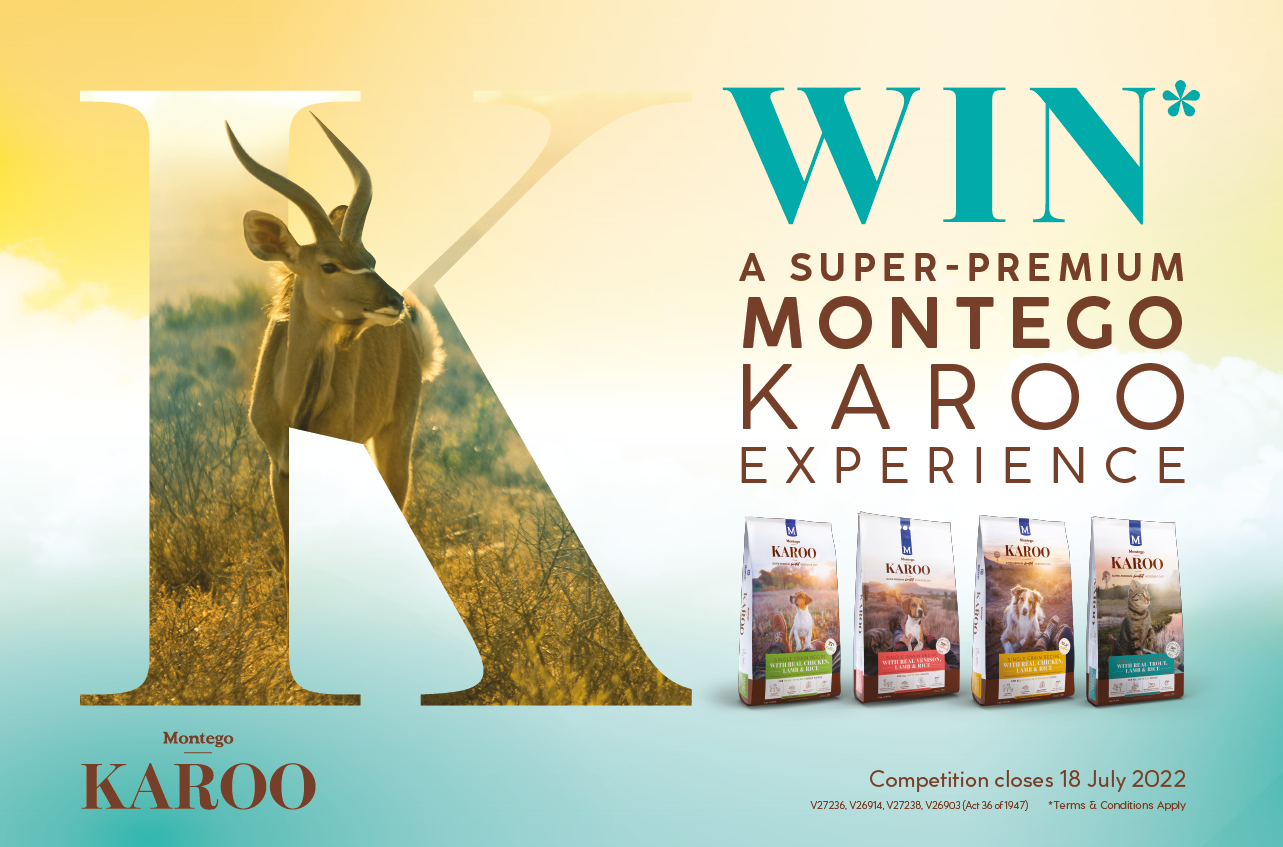 The "Montego Karoo Experience" Competition Terms And Conditions
1. Competition closes 18 July 2022. Late entries will be discarded.
2. To qualify for entry, customers are required to purchase any dog or cat Montego Karoo dry food product in any kg size or life stage (puppy, kitten, senior and/or adult cat/dog including all protein variants).
3. To enter the competition, customers are required to scan the dedicated competition QR code, which will open an online entry page prompting required details to be completed. The QR code can be found on in-store competition communication. Customers may also visit the Montego Pet Nutrition website to enter. No other form of entries will be accepted.
4. Three competition winners will be selected by means of a random draw. The draw is final, and no correspondence will be entered into.
5. The winners of the competition will be announced in August 2022 and contacted by the details provided on the digital entry form.
6. Winners will be prompted to provide proof of their Montego Karoo purchase to validate their entry and claim prizes. Please retain till slips, invoices, or similar proof to validate entry.
7. Each of the three prizes will be a Karoo holiday experience for two people valued at R50 000 each. The holiday consists of up to five nights in the Graaf-Reinet area (Eastern Cape) and includes accommodation, a Montego factory visit, spa treatments, game drives, a trip to The Valley of Desolation, a Nieu Bethesda day trip and more. Specific details, such as dates, will be arranged with the winners at the discretion of Montego Pet Nutrition, the travel agent appointed and the winners. The holidays can be claimed any time prior to 13 February 2023.
8. The prizes cannot be exchanged for cash.
9. Unclaimed prizes will be forfeited.
10. This competition is open to all South African residents who are in possession of a valid South African identity document, passport, or document of proof of South African residency. The competition excludes employees, directors, owners, agents, distributors, consultants, suppliers, or their immediate family members or anyone directly connected to, or in the employment of, participating retailers or Montego Pet Nutrition (Pty) Ltd, its subsidiaries and business partners, associates and advertising agencies.
11. Participants under the age of 18 years must by law, obtain consent from a parent or guardian to enter this competition and/or claim prizes.
12. Montego Pet Nutrition will take no responsibility in the unfortunate event of personal loss, injury or any other unfortunate event resulting from the prize. The winners of the R50 000 holidays travel to and enjoy the Karoo entirely at their own risk.
13. Montego reserves the right to amend the terms and conditions of this competition at any time without prior notice, in the unlikely event this is deemed necessary.
14. The winners will be requested to share information and photos of their Karoo holiday experience for Montego`s social media and/or publications.
15. By entering the competition, the winner will be requested to allow Montego Pet Nutrition to contact them or to use their full names for announcement purposes – the winner will also be requested to allow a Montego representative to take photos of them and/or conduct an interview for any social media and/or print media pages/publications.
16. For more information, visit www.montego.co.za or email your competition related queries to competitions@montego.co.za with the subject line 'Karoo Experience Competition'.
"POPI Act Disclaimer
All personal information submitted by you, an entrant to the Montego Karoo competition, complies with the POPI Act of South Africa. By submitting your personal information to Montego, you allow Montego to use the information for marketing purposes and/or to contact you about the Karoo competition. Montego is not allowed to share your submitted personal information with outside parties, without your permission. Terms and conditions apply."