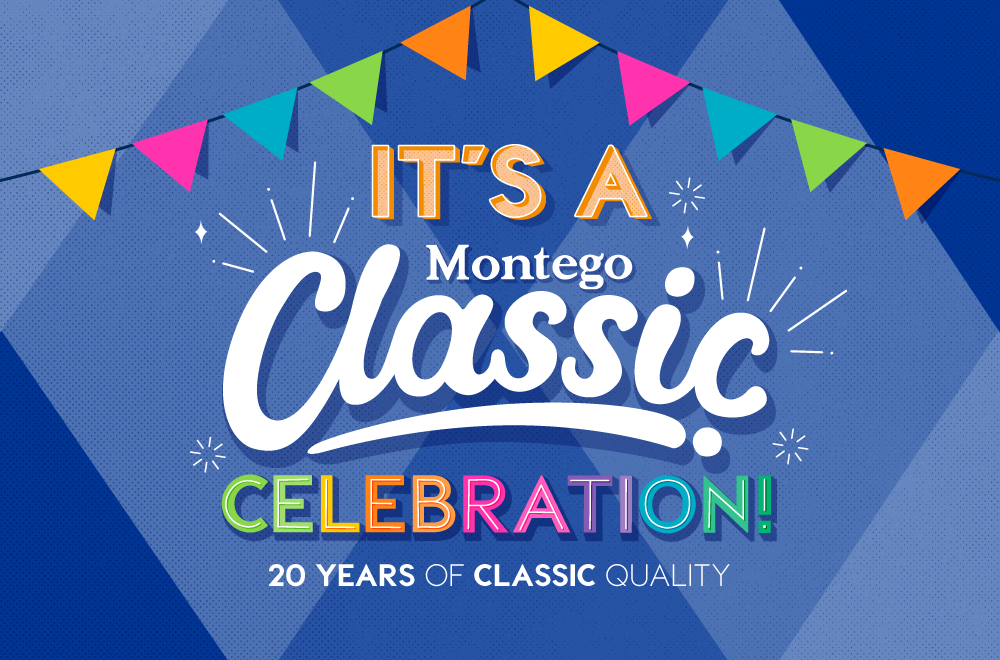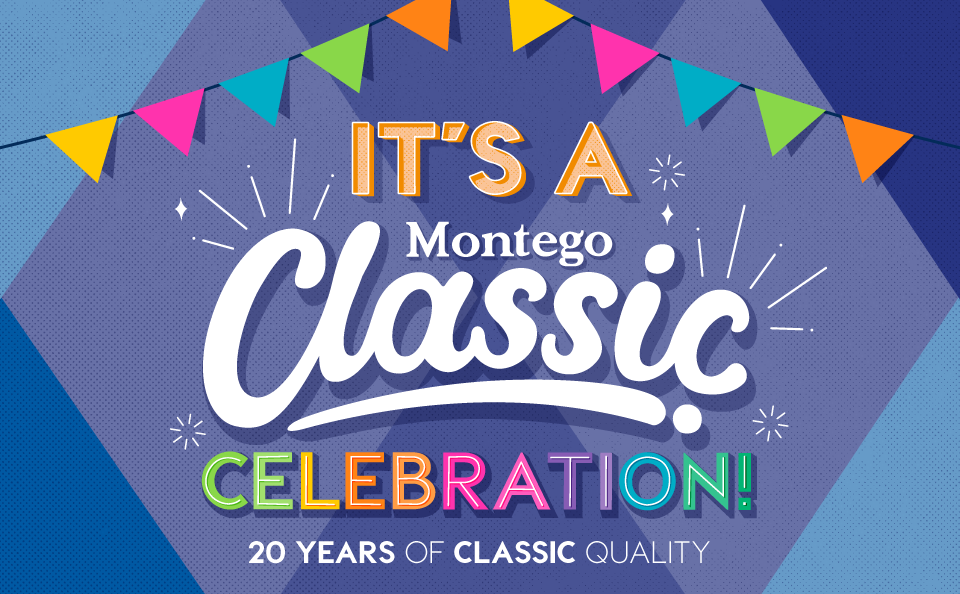 We're celebrating 20 Years of Classic Quality – and 20 Years of Montego – with our Classic Celebration! If you want to land yourself one of these beautiful metal bins – along with all the delicious Montego goodies inside – buy any Classic dry food product from a participating retailer during the promotion period, then enter in-store to stand a chance.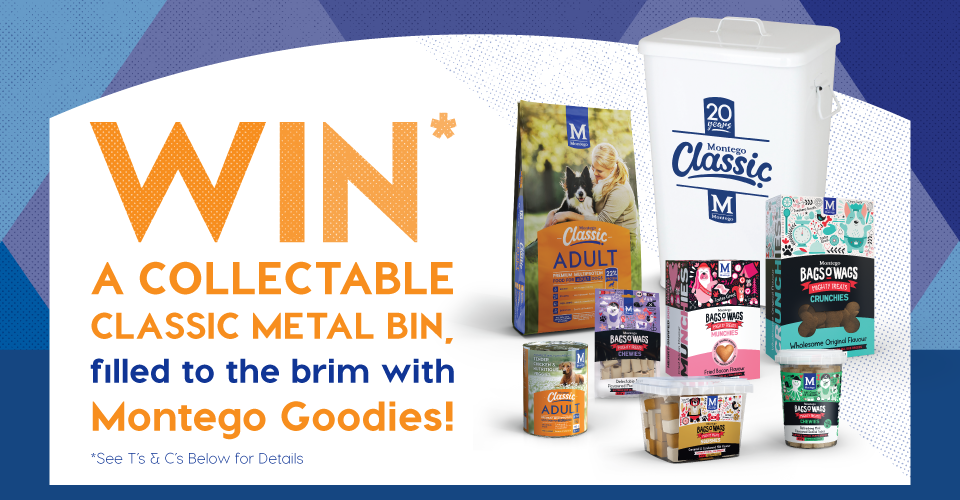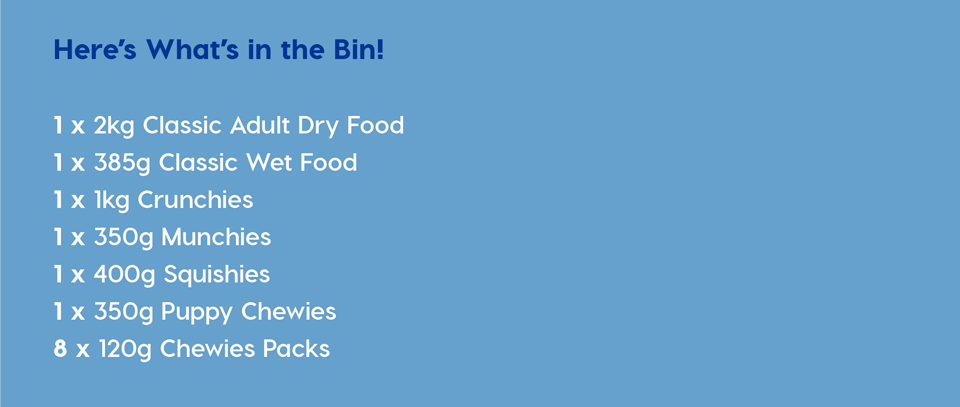 AGRA ARANOS
AGRA GOBABIS
AGRA GROOTFONTEIN
AGRA HYPER
AGRA KARASBURG
AGRA KARIBIB
AGRA KEETMANSHOOP
AGRA MALTAHOHE
AGRA MARIENTAL
AGRA OKAHANDJA
AGRA OMARURU
AGRA ONDANGWA
AGRA OPUWO
AGRA OTAVI
AGRA OTJIWARONGO
AGRA OUTJO
AGRA REHOBOTH
AGRA RUNDU
AGRA TSUMEB
AGRA WINDHOEK
AGRI – KOES
ARKEO TRADING
AUAS VETMED
CITY PETS CC
GAME NAMIBIA OSHAKATI
GAME NAMIBIA THE GROVE
GAME NAMIBIA THE GROVE
GAME NAMIBIA WINDHOEK
GAME WALVIS BAY 564
HAPPY PETS ACCESSORIES CC
KAAP AGRI ARANOS
KAAP AGRI EXPRESSMARK 1826
KAAP AGRI GOBABIS
KAAP AGRI GOCHAS
KAAP AGRI GROOTFONTEIN
KAAP AGRI HOCHFELD 1947
KAAP AGRI KEETMANSHOOP
KAAP AGRI MARIENTAL
KAAP AGRI OMURURU 1830
KAAP AGRI ONDANGWA E/MARK 1928
KAAP AGRI OTJIWARONGO
KAAP AGRI PLAAS NARRIS NO 111
KAAP AGRI REHOBOTH
KAAP AGRI STAMPRIET
KAAP AGRI WINDHOEK
M PUPKEWITZ ORANJEMUND
M PUPKEWITZ WALVIS BAY
M PUPKEWITZ WINDHOEK
METRO EENHANA 371
METRO GROOTFONTEIN 0372
METRO HYPER 0310
METRO KEETMANSHOOP 317
METRO MEGA STORE SWAKOPMUND
METRO OTJIWARONGO 0353
METRO RUNDU 0323
METRO TSUMEB 0355
METRO WALVIS BAY 309
METRO WINDHOEK 0360
PETS PARADISE
PUPKEWITZ MEGABUILD
STAMPRIET EXPRESSMARK 1943
VETSMART NAMIBIA CC – WINDHOEK
WEST PACK LIFESTYLE WALVIS BAY
WESTPACK PET ZONE MEGA RETAIL CC – WINDHOEK
EZULWINI SUPER SPAR
MANZINI SUPER SPAR
MATSAPHA SPAR
MBABANE SUPER SPAR
FARM SERVICES (PTY) LTD
ESME FURSTENBURG: 71 598 178
CLASSIC CELEBRATION TERMS & CONDITIONS
To qualify for entry into the Classic Celebration competition, customers must
purchase any Montego Classic Dry Food variant (Adult Dog/Cat, Kitten, Puppy
and/or Senior Dog) in any size, from a participating store.
By entering this competition, customers, by default, accept the competition
terms and conditions.
This competition is subject to stock availability at limited, participating retailers in
South Africa, Namibia, Swaziland and Botswana.
One purchase qualifies as a single entry. Customers may enter as many times
as they would like.
Each store's winner will be selected by means of a random draw, conducted instore,
on the specified date communicated on the store's competition poster or
online banner/competition page.
The winners do not need to be present on the day of the draw and will be
contacted by a store or Montego representative to arrange prize collection/
delivery.
The draw is final, and no correspondence will be entered into.
One winner will be selected per participating store. The prize consists of a metal,
collectable Montego Classic storage bin, filled with a variety of Montego
products, valued at R1000 each.
The prize cannot be exchanged for cash, vouchers or other products. The
contents of the prize cannot be exchanged for other variants.
This promotion is exclusive to participating retailers as communicated on
www.montego.co.za/our-news.
It is the entrant's personal responsibility to write his/her details clearly on their
entry form and successfully deposit their entry into the dedicated entry box.
Should a store be unable to provide an entry leaflet, customers may enter by
writing their name and contact details on their purchase slip.
Montego reserves the right to amend the terms and conditions of this
competition at any time without prior notice. The latest version will be available
on the Montego Pet Nutrition website (visit the "our news" page to view
campaign articles).
Customers can send any competition related queries to
competitions@montego.co.za with the subject line "Classic Competition".