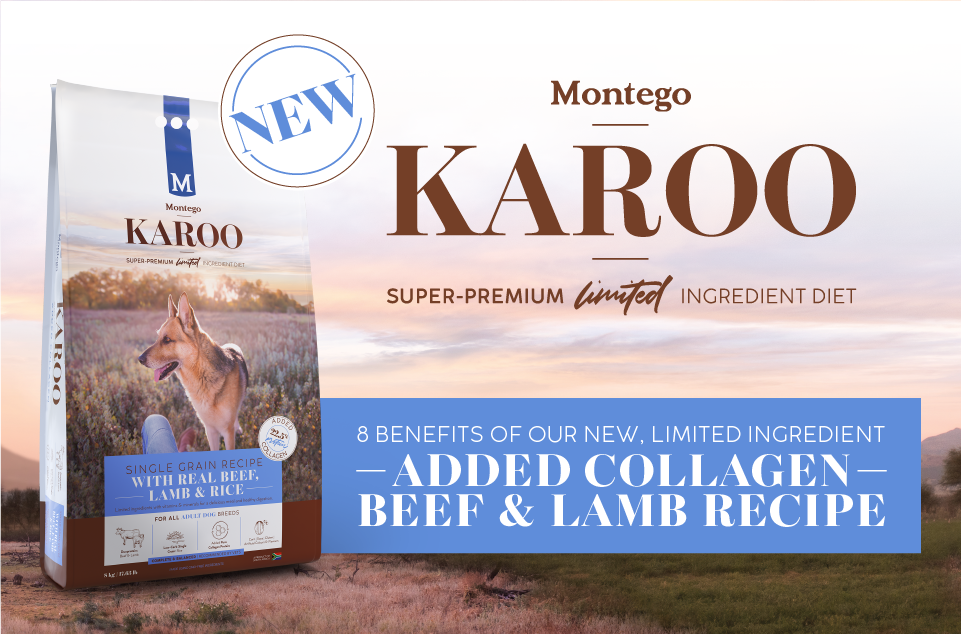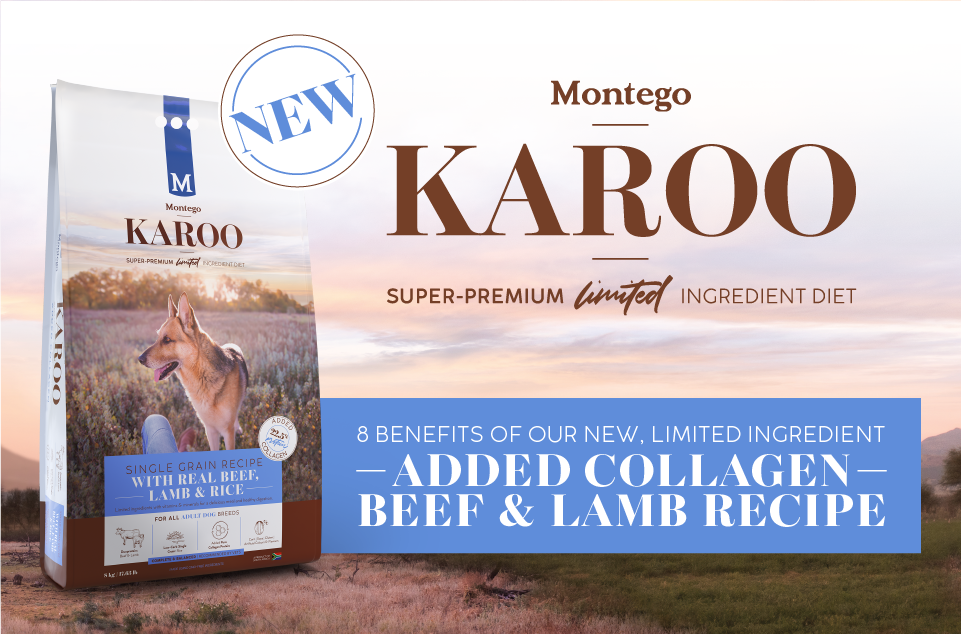 If you want to keep your dog healthy and happy, active and free of the discomfort related to ageing bones and joints, you may be interested in the advantages of feeding your adult dog Montego Karoo's delicious, Added Collagen, Single Grain, Real Beef, Lamb & Rice recipe.

8 KEY KAROO BENEFITS FOR ADULT DOGS
Low Carbohydrate Formulation Using Only Rice
Our limited ingredient formulations include rice as the only source of carbohydrates. As a grain, rice contains a lower percentage of sodium and fat, providing a low GI source of highly digestible carbs and all-day energy. Additionally, rice provides an excellent source of vitamin D and calcium for bones.
Strength-Building Duoprotein: Beef & Lamb
High in amino acids for strong muscles, beef provides a high-quality source of protein, iron, zinc and selenium as well as vitamin B3, B6 and B12. Lamb, which brings out delicious aroma and flavour, is also rich in omega-3 & -6.
Hydrolysed Pure Collagen
Collagen is a structural protein found in connective tissues' like joints, tendons, cartilage and ligaments. A natural loss of collagen due to ageing can be supplemented through your dog's diet, helping to improve joint pain, reduce inflammation and the effects of conditions such as arthritis, degenerative disc disease and tendonitis. Another benefit of added collagen, is that research has shown that it is likely to promote hair growth, strong nails and healthy coat. Additionally, the collagen further increases palatability of Karoo food.
Omega-6 & Omega-3 from Animal Fats & Fish Oils
Omega-6 fatty acids are required for healthy, functioning reproductive and immune systems as well as supple skin and a shiny coat. Additionally, encapsulated fatty acids are essential for reducing stool odour.
Digestive Activator: Beet Pulp & Inulin
Beet pulp and inulin provide a source of fructo-oligosaccharides which work as a prebiotic, strengthening certain functions of the liver and bladder, helping to remove waste and improve digestion. Functioning as prebiotics, beet pulp and inulin fuel microflora in the colon, encouraging the growth of beneficial bacteria for healthy digestion.
Vitamin-Rich Brewer's Yeast
As well as boosting the already-enticing flavour of Karoo food, studies have shown that brewer's yeast can help reduce stress and calm nerves; the B-vitamins it provides, assists with nerve function, stress management. Brewer's yeast may also support normal shedding, while improving the condition of dry or itchy skin.
Nourishing Fish Oils
Fish and salmon oil powder can help reduce inflammation and even reduce the intensity of most food allergies. The omega-3 fatty acids these oils provide are also essential to brain development, clear vision, boosting the immune system and joint health.
A Beneficial Mix of Minerals
Included in Karoo's mix of minerals is salt, which can help balance electrolytes as well as potassium chloride which helps regulate fluid balance, maintaining optimum pH levels and improving bone density. These minerals also encourage hydration, while functioning as natural acidifiers.
Karoo's added collagen dry food formulation for adult dogs is available in-store now! Find your nearest retailer here, or explore Montego Karoo's Beef, Lamb & Rice recipe, here.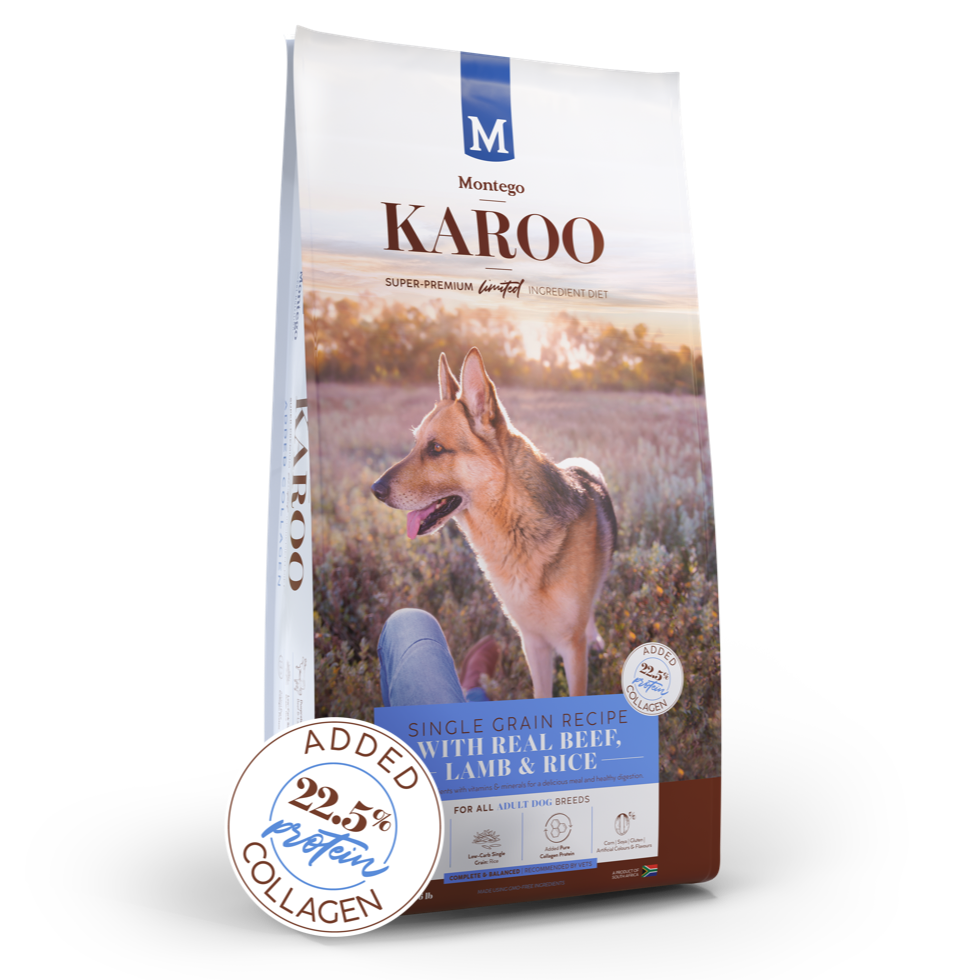 Karoo Single Grain, Real Venison, Lamb & Rice dry food recipe for adult dogs available in 1,75kg, 8kg and 15kg packs.