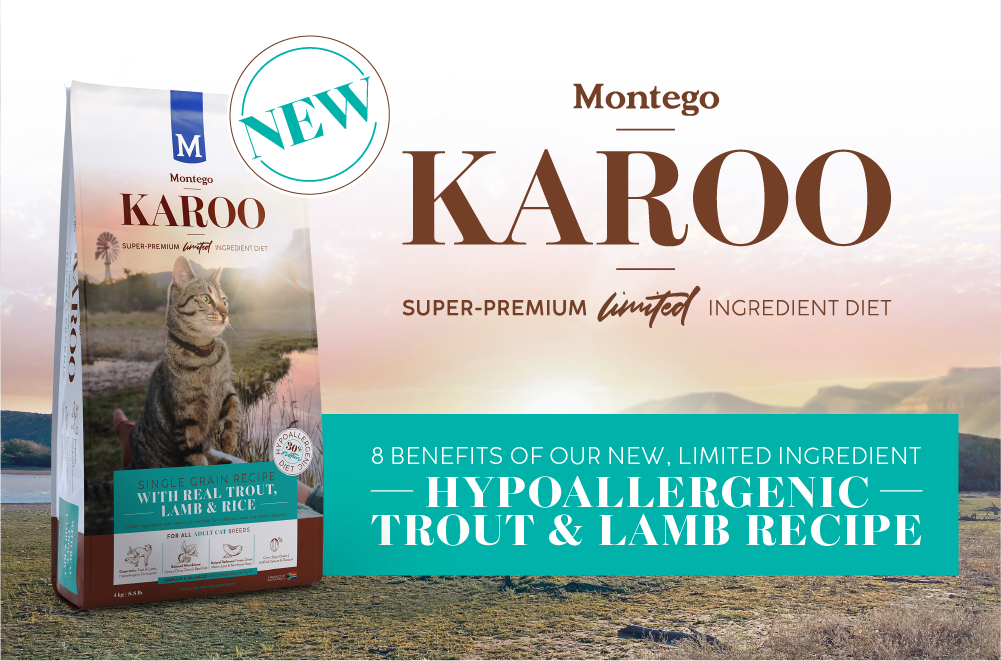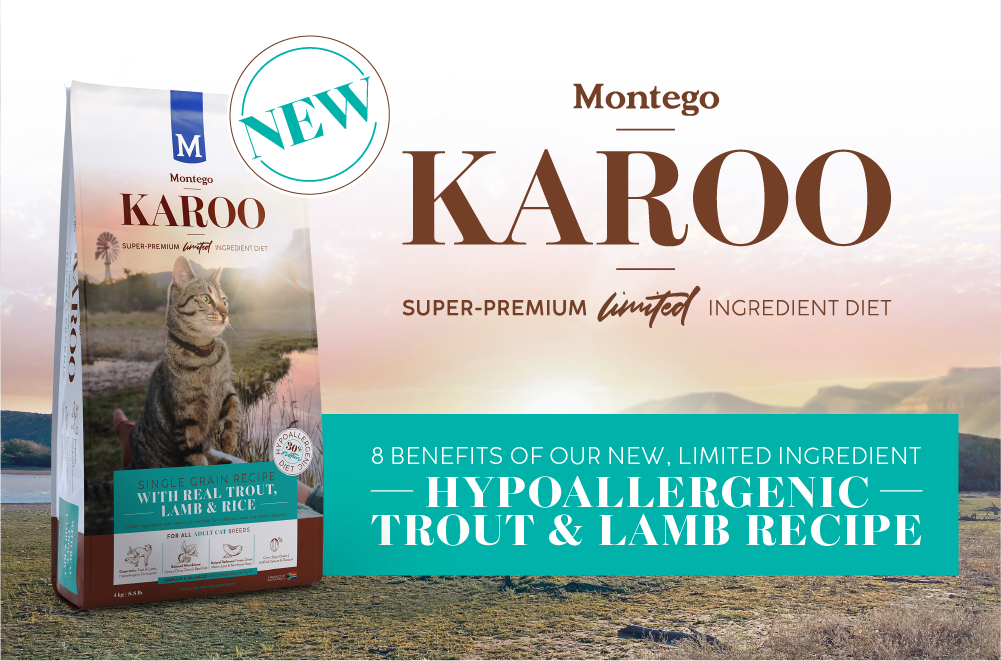 Allergic reactions are distressing for both cats and their owners! Ensure your peace of mind, while keeping your adult cat healthy, happy and free of the discomfort or irritation associated with dietary allergies, you may be interested in reading about the benefits of feeding them Montego Karoo's delicious, Single Grain, Real Trout, Lamb & Rice recipe.

8 KEY KAROO BENEFITS FOR ADULT CATS
Hypoallergenic, Gluten-Free Recipe
Pea protein replaces gluten in our hypoallergenic formulation helping to reduce the impact of digestive disorders or intolerances,making this recipe ideal for cats with sensitive stomachs or skin conditions.
Low Carbohydrate Formulation Using Only Rice
As a single-grain formulation, Karoo uses rice as the only source of carbohydrate –  a high-quality grain that provides all-day energy. This is important, as eliminating the number of carbohydrate sources allows for easier digestion, which in turn enables your cat to absorb more nutrients from their food.
Strength-Building Duoprotein: Trout & Lamb
Alternative proteins trout and lamb replace chicken in this recipe, helping to reduce the risk of food intolerance and commonly associated allergic reactions, as cats may not yet have formed antibodies against trout or lamb. Additionally, trout is a low calorie, high-protein fish that provides all-day energy as well as nutrients such as vitamin B12 and selenium.
Balanced Microbiome from Citrus Fibre & Beet Pulp
Natural, dietary citrus fibre and beet pulp nourish the gut, stimulating a balanced microbiome for the growth of beneficial bacteria in the digestive system. Fermentable fibres such as the ones found in this recipe provide energy for the intestinal lining to help break down ingredients while adding bulk to the food and meals – without the effects of increased stool volume or gas.
Omega-6 & Omega-3 from Animal Fats & Fish Oils
Omega-6 from poultry fat and omega-3 fatty acids from fish oil – which have not been found to cause food allergies in cats – nourish their skin, regulating oil production as well as improving hydration and the condition of hair follicles. Evidence further supports the fact that omega-3 fatty acids retain anti-inflammatory properties, assisting with allergies or dry skin.
Hairball Management: Dietary Cellulose & Fish Oil
Fish oil aids in the prevention of shedding and together with dietary insoluble cellulose may enhance intestinal transit rates, reducing the severity of hairballs in long-haired cats. The natural cellulose fibres in our trout and lamb recipe help move hair through a cat's system, stimulating faecal hair excretion,reducing hairball symptoms and vomiting
Urinary Tract Health: Minerals & Water
Balanced nutrition, including a lower dietary magnesium level, maintains a reduced urinary pH level and stimulates water consumption, diluting your cat's urine. These pH controllers help with lowering the risk of struvite crystals, ensuring a healthy urinary tract.
Reinforced Natural Defences: Freeze-dried Melon Juice & Nutritional Yeast
Inactivated yeast balances the immune system, while freeze-dried melon juice and pulp protects cells against the oxidative stress and damage caused by free radicals. This supports the well-being and anti-ageing of the immune system and overall health. Additionally, nutritional yeast helps boost the flavour of Karoo, making the food even more irresistible to cats' palates.
Karoo's hypoallergenic, dry food recipe for adult cats is available in stores now, in 2 kg, 4 kg and 10 kg packs. Find your nearest retailer here, or explore Montego Karoo's Real Trout, Lamb & Rice recipe, here.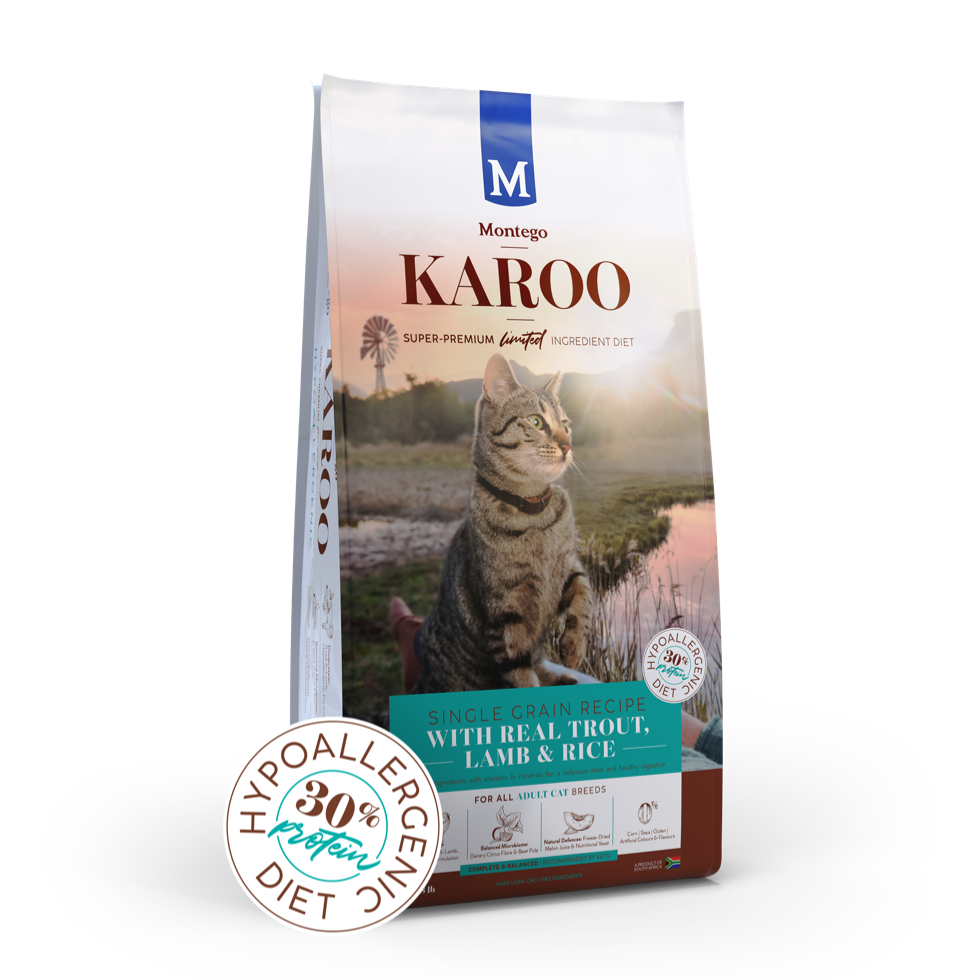 Karoo Single Grain, Real Venison, Lamb & Rice dry food recipe for adult dogs available in 1,75kg, 8kg and 15kg packs.