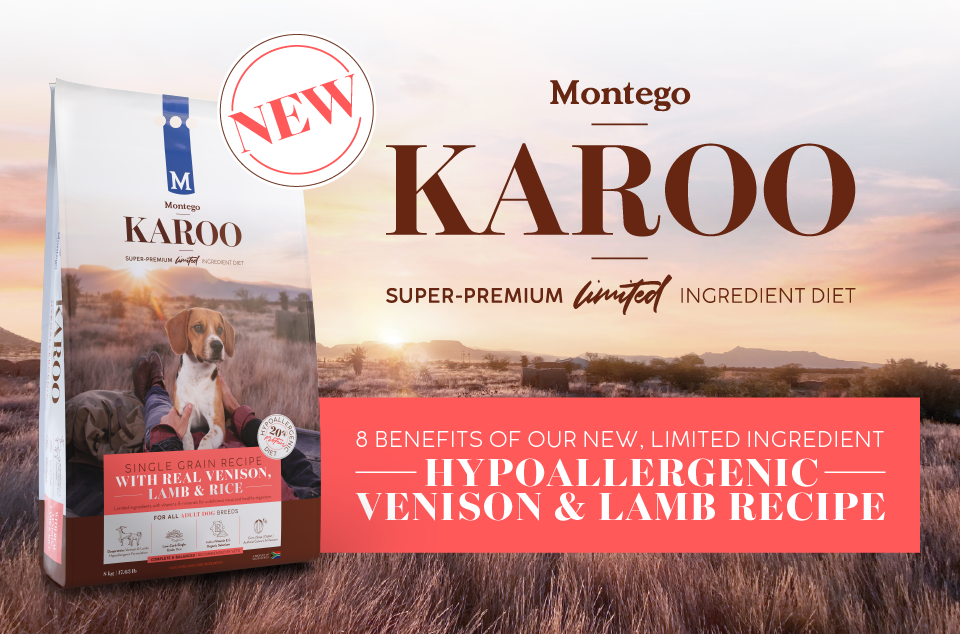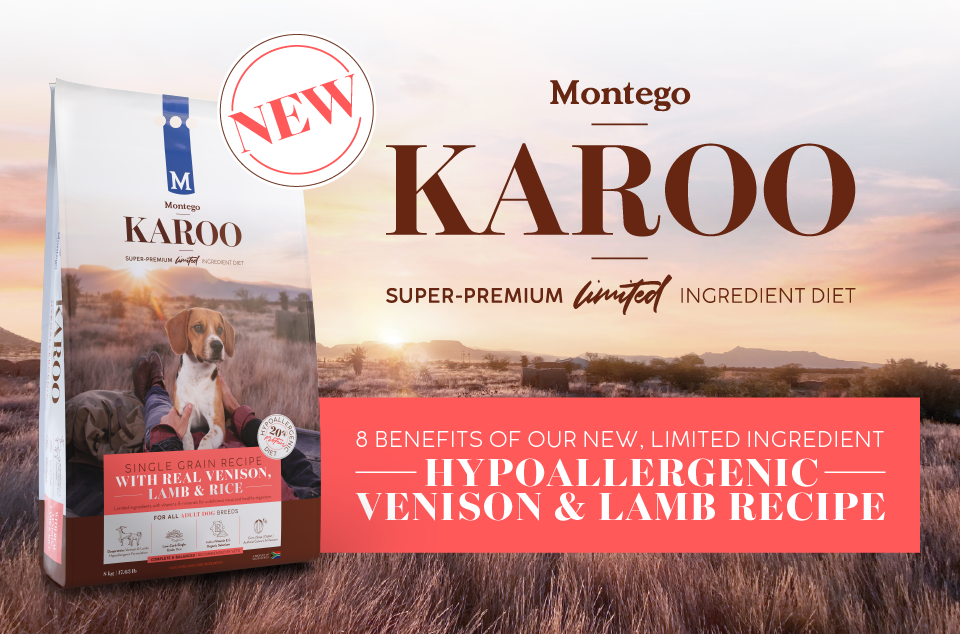 If you want to keep your dog healthy and happy, active and free of the discomfort or irritation associated with dietary allergies, you may be interested in the advantages of feeding your adult dog Montego Karoo's delicious, Single Grain, Real Venison, Lamb & Rice recipe.

8 KEY KAROO BENEFITS FOR ADULT DOGS
Hypoallergenic, Gluten-Free Recipe
Pea protein replaces glutenin our hypoallergenic formulation helping to reduce the impact of digestive disorders or intolerances, making this recipe ideal for dogs with delicate stomachs or skin sensitivities.  Additionally, protein from peas adds beneficial support to our meat-based, novel proteins.
Duoprotein: Venison & Lamb
Proteins play an important role in maintaining strong muscles and joints as well as providing an abundance of energy. However, some dogs develop antibodies to protein sources such as chicken or pork, which can lead to discomfort.
To reduce the risk of food intolerance and commonly associated allergic reactions, novel protein sources like venison and lamb take the place of chicken, as it's likely that dogs have not formed antibodies against these meats.
Low Carbohydrate Formulation Using Only Rice
Restricting multiple carbohydrate sources in our recipes reduces the risk of uncomfortable food intolerances reduces the risk of uncomfortable food intolerances in adult dogs. Our limited ingredient formulations include rice as the only grain – a high-quality, highly digestible carbohydrate that provides all-day energy.
Omega-6 from Animal Fats and Vegetable Oils
Omega-6 fatty acids from rendered chicken fat – generally disregarded as an allergen – can help promote healthy cell growth and function, a lustrous, shiny coat and nourish your dog's skin. Additionally, encapsulated fatty acids are essential for reducing stool odour.
Digestive Activator: Beet Pulp & Inulin
It's not as easy for dogs to digest certain ingredients, as it is for humans. Beet pulp and Inulin provide a fibre-rich source of fructo-oligosaccharides that help dogs digest grains and vegetables by stimulating the growth of beneficial bacteria in the digestive system, while also improving stool quality.
Vitamin-Rich Brewer's Yeast
Provides a rich source of B-Vitamins that are vital for maintaining good health – aiding metabolism by facilitating the conversion of nutrients into energy. Adding brewer's yeast also improves and boosts the already-enticing flavour of Karoo food, adding extra appeal.
Nourishing Fish Oils
Omega-3 fatty acids from fish oil and salmon oil powder are essential to brain development, clear vision, immune system health and joint health. They can also help reduce the effects of dry skin, dander and other forms of scaling disorders in dogs.
Added Vitamin E with Organic Selenium
Antioxidant-rich Vitamin E and organic Selenium contribute to a softer, shinier coat while reducing the possibility of shedding, by promoting supple, elastic skin. Selenium contributes critical nutrition, supporting the immune system function.
Karoo's hypoallergenic dry food formulation for adult dogs is available in-store now! Find your nearest retailer here, or explore Montego Karoo's Real Venison, Lamb & Rice recipe, here.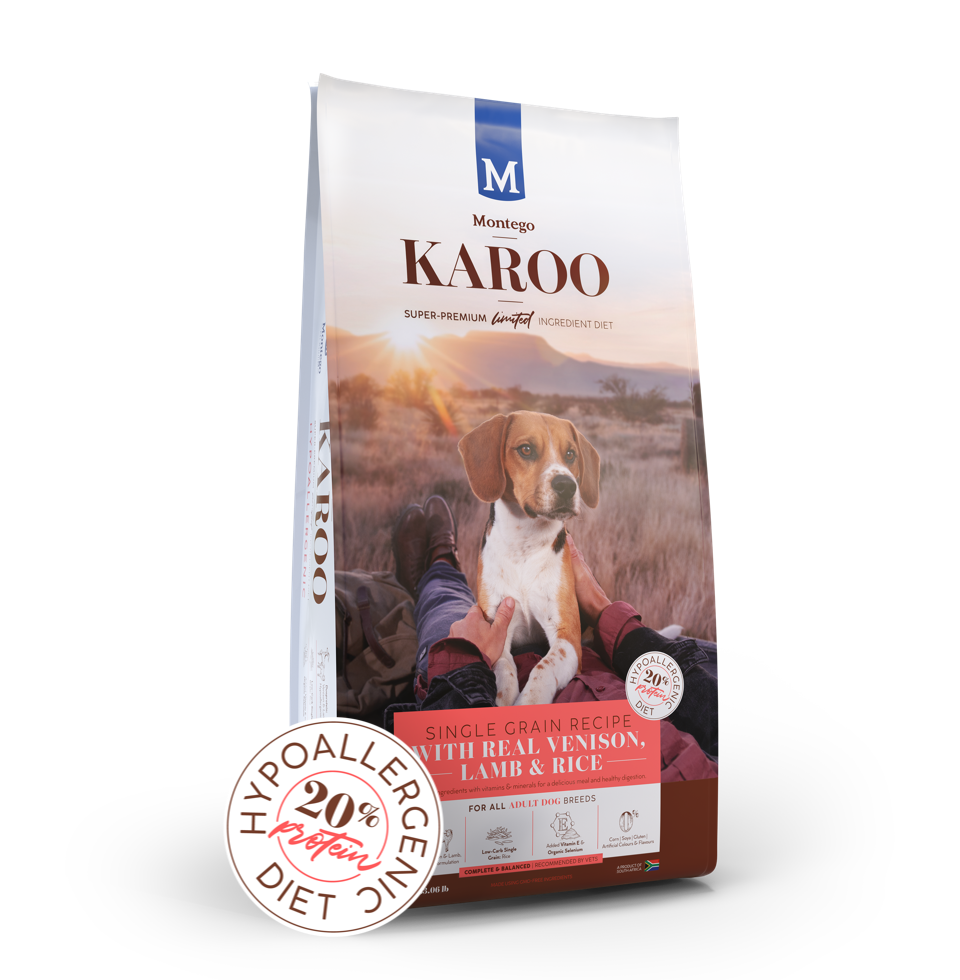 Karoo Single Grain, Real Venison, Lamb & Rice dry food recipe for adult dogs available in 1,75kg, 8kg and 15kg packs.