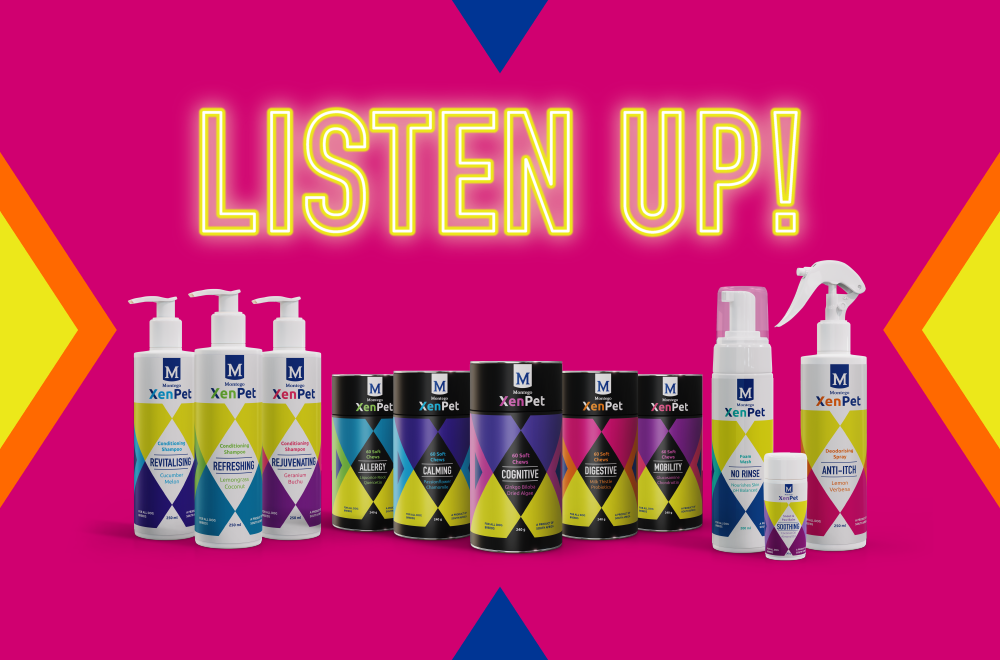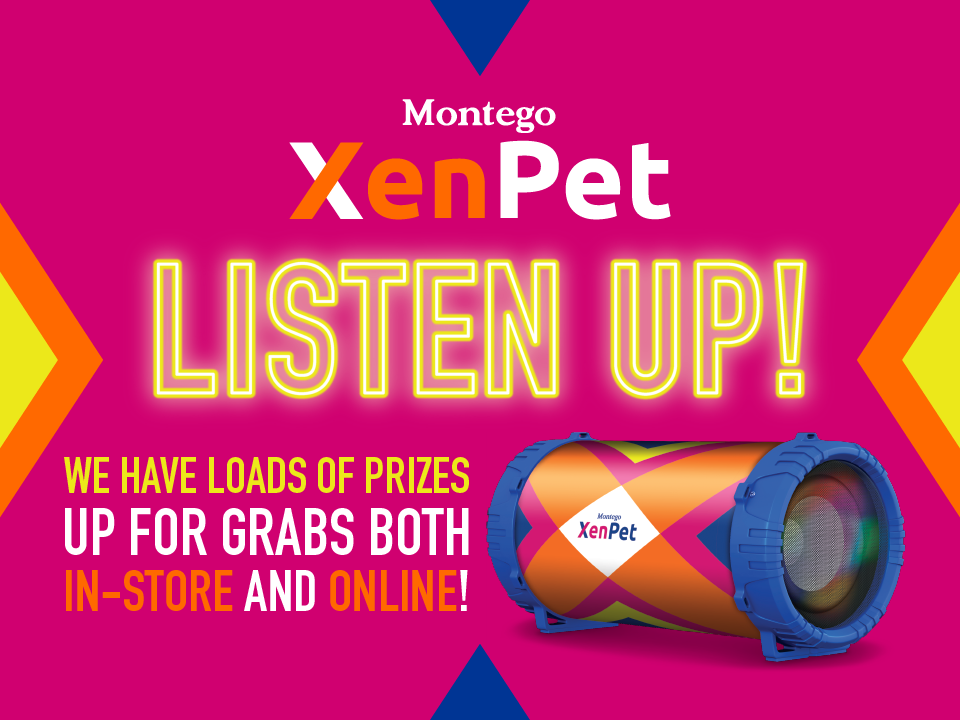 Stand a chance to win a custom Montego XenPet ShoX Swagga Bluetooth speaker when you buy any XenPet product in-store! See our full in-store competition terms and conditions below and find your nearest retailer here. Be sure to keep an eye on our social media pages for some X-tra fun competitions and you could win 1 of 10 XenPet hampers worth R5000 each (see T's & C's here)!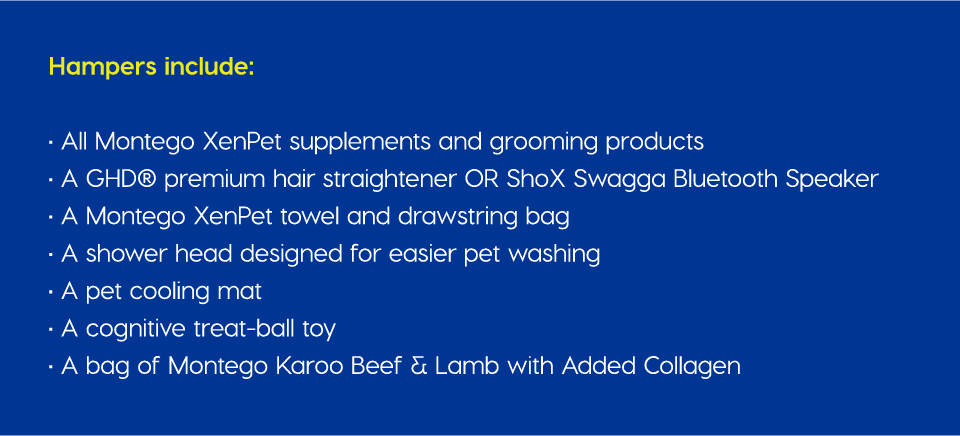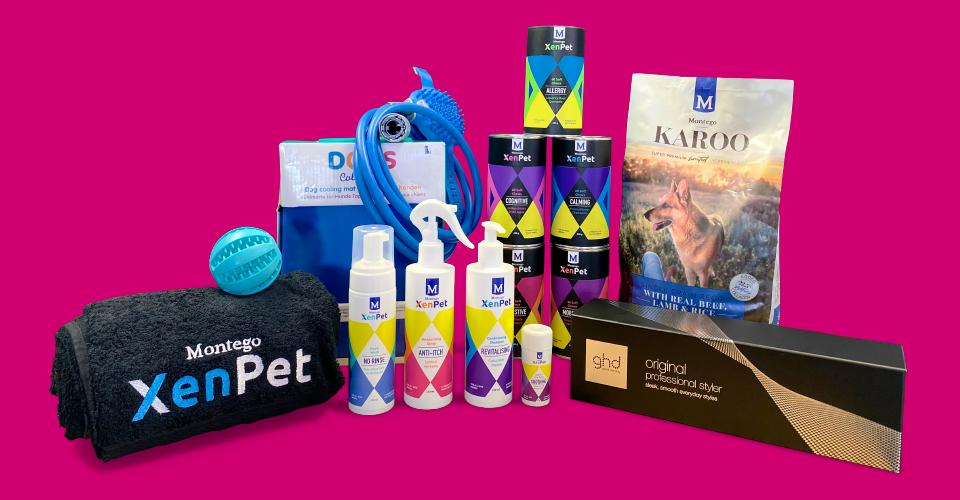 XenPet Premium Soft-Chew Supplements Include support for:
Allergies
Calming behaviour
Cognitive function
Digestive health
Improved Mobility
XenPet Premium Grooming Products Include:
Anti-Itch Deodorising Spray
No Rinse Foam Wash
Snout & Paw Balm
Refreshing Conditioning Shampoo
Rejuvenating Conditioning Shampoo
Revitalising Conditioning Shampoo
eXplore Montego XenPet here.
MONTEGO XENPET "LISTEN UP" TERMS AND CONDITIONS
By entering the competition participants agree to these terms and conditions.
This competition is exclusive to participating retailers only and is subject to XenPet stock availability.
To qualify for entry, customers are required to purchase at least 1, or a combination of the following Montego XenPet Supplements and Grooming products from a participating retailer: XenPet Allergy, Calming, Cognitive, Digestive and/or Mobility Supplements; XenPet Deodorising Anti-Itch Spray, XenPet Refreshing, Revitalising and/or Rejuvenating Conditioning Shampoos, XenPet No-Rinse Foam Wash and/or XenPet Snout & Paw Balm.
Retailers reserve the right to stock any combination of XenPet products and some product variants may not be available in all participating stores.
Competition dates vary per store and will be communicated by each participating retailer. The promotions will only be valid on the specified date/s at selected retailers.
A single purchase qualifies as a single entry into the competition. Customers may enter as many times as they like.
The official competition period is from March – June 2022. Refer to in-store posters for live dates.
Winners will be drawn at random and contacted by each hosting retailer within a reasonable period following that retailer's communicated draw date.
Most Online retailers hosting the competition will enter customers purchasing XenPet products automatically, unless otherwise communicated by that retailer.
Each winner will win a Shox Swagga Bluetooth speaker valued at R399.
Winners will be contacted on the details provided on the entry form to arrange prize delivery/collection.
It is each entrant's responsibility to write his/her details legibly on their entry form and successfully deposit it into the dedicated entry box.
The draw is final, and no correspondence on the matter will be entered into.
Prize cannot be exchanged for cash, vouchers, or other products.
Participating retailers will strive to ensure timely and successful deliveries of prizes but take no responsibility for any theft or breakages in the unfortunate and unlikely event this occurs.
Should a store be unable to provide an entry leaflet, customers may enter by writing their name and contact details on their purchase slip.
This competition is open to all South African residents who are in possession of a valid South African identity document, passport, or document of proof of South African residency excluding employees, directors, owners, agents, distributors, consultants, suppliers, or their immediate family members or anyone directly connected to or in the employment of participating retailers or Montego Pet Nutrition (Pty) Ltd, its subsidiaries and business partners, associates and advertising agencies.
Participants under the age of 18 years must obtain (by law) consent from a parent or guardian to enter this competition.
Montego reserves the right to amend the terms and conditions of this competition at any time without prior notice.
Customers may send any competition related queries to competitions@montego.co.za with the subject line 'Montego XenPet Competition'.
Take Care,
Team Montego