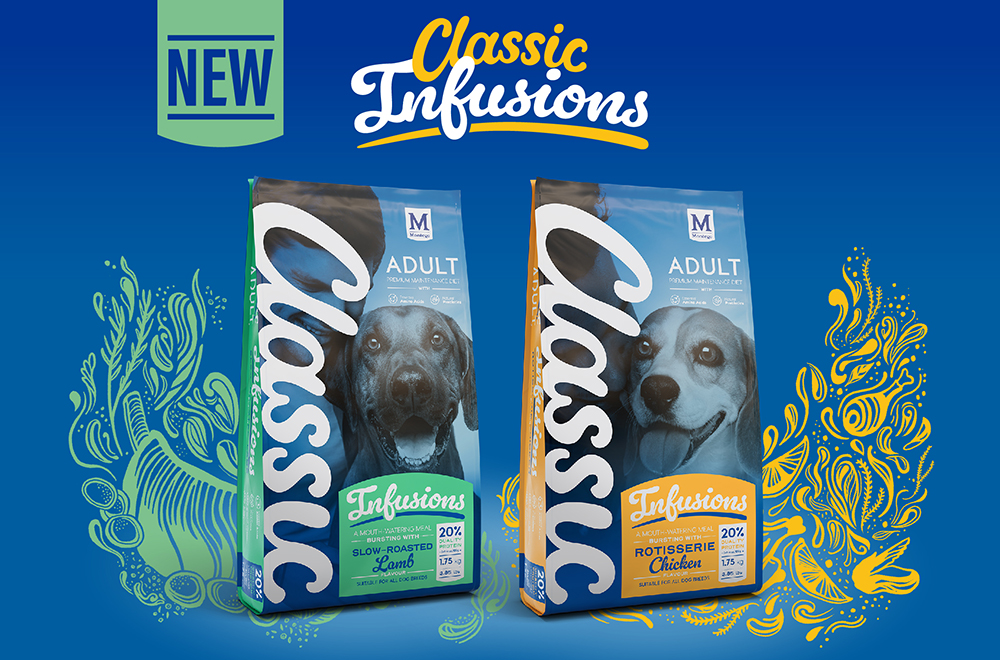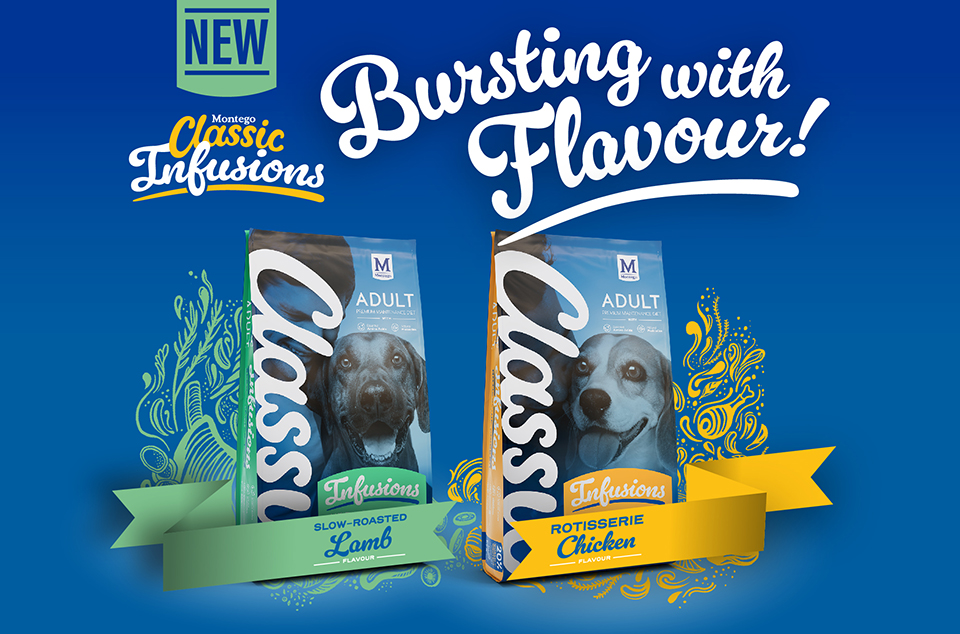 FIRE UP THE FLAVOUR WITH MONTEGO CLASSIC INFUSIONS
Introducing Montego Classic Infusions for Adult Dogs!
Two new premium maintenance diets with essential amino acids and natural prebiotics, each a mouth-watering meal BURSTING with rotisserie chicken or roast lamb flavour and aroma!
Both Classic Infusions dry adult dog food include:
20% quality protein
Essential amino acids
Natural prebiotics
Essential vitamins & minerals
0% soya & artificial colours
Our Classic Infusions bags sport a fresh new look for the Classic brand, which features Classic Care tips encompassing 8 steps to a more fulfilling and healthier life for your dog.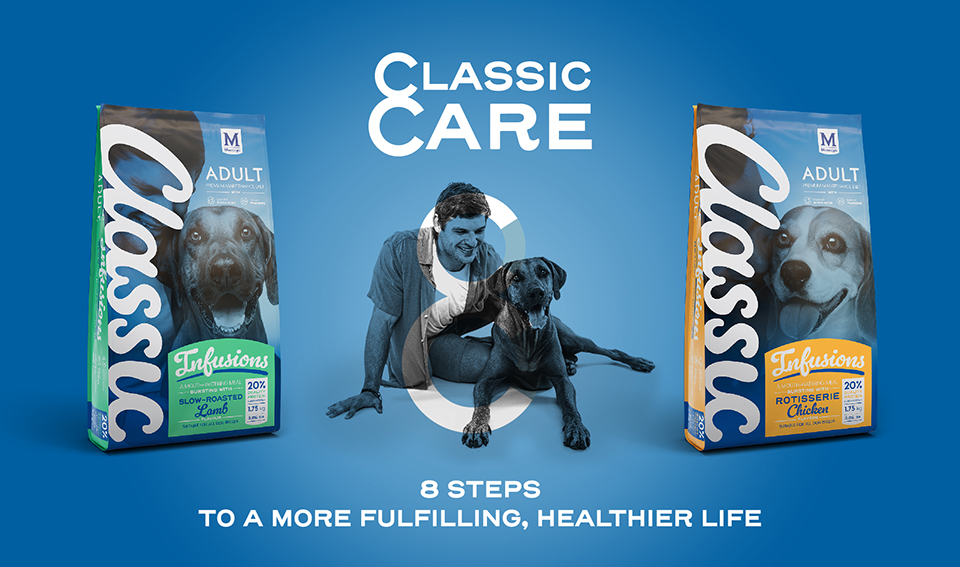 Ensure they always have fresh water available
Water is essential to many bodily functions, including the regulation of body temperature, the transport of nutrients, and an aid to digestion. Provide lots of water, so your dog stays hydrated, especially during hot weather or physical activity.
Serve them something delicious
Eating is an essential part of a dog's daily routine. Just like us, dogs are more excited to eat food they find tasty and enjoyable. Serve up Classic Adult Infusions for an unforgettable meal containing all the nutrition they need with an extra burst of delicious rotisserie chicken or roast lamb flavour!
Ensure they receive enough energy
Dogs need energy to walk, run and play. It also helps them maintain body temperature, support the immune system, and repair and regenerate tissue. Classic Adult Infusions provides dogs with 365 kcal per 100 g, 20% Protein, 10% fat, and essential amino and fatty acids so they can live life to the fullest.
Keep their joints and cartilage strong and flexible
Glucosamine and chondroitin are natural ingredients that help support increased flexibility and mobility. They support new cartilage regeneration and help to prevent the deterioration of existing joint tissue.
Look after their heart, brain, and muscles
The natural dietary Taurine levels in Classic Adult Infusions support crucial physiological functions, including regulating heart contractions, improving the central nervous system, and maintaining healthy vision.
Maintain the strength of their teeth and bones
It goes without saying that dogs rely on strong teeth to adequately chew their food and strong, durable bones to enjoy an active lifestyle. Calcium aids in the development and maintenance of strong bones and teeth, helping to build the structural framework of the skeleton and keeping bones healthy.
Keep their skin healthy and coat in good condition
A dog with healthy, supple skin and a lustrous coat is a more comfortable, happier dog. With added omega-3 and omega-6 fatty acids, Classic Adult Infusions helps maintain coat condition and may assist in preventing skin allergies, dryness and excessive shedding.
Provide them with a comfortable place to sleep and rest
The average adult dog spends 50% of their life asleep. A comfortable, clean bed can assist dogs who suffer from arthritis, muscle dysplasia or joint discomfort. It also helps ease the ageing process.
Find Classic Infusions at a retailer near you in 1.75 kg, 8 kg and 18 kg, bags.
See more information here.