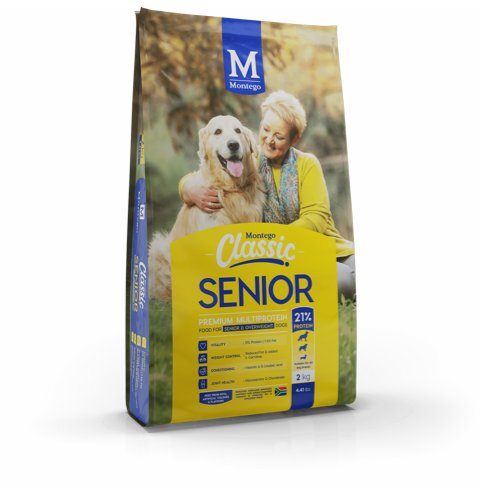 CLASSIC SENIOR
Naturally balanced premium nutrition with added essential vitamins & minerals for a complete meal.
VITALITY
21% Protein | 7.5% Fat
WEIGHT CONTROL
Reduced Fat & added L-Carnitine
CONDITIONING
Vitamin A & Linoleic Acid
FREE FROM SOYA, ARTIFICIAL COLOURS & FLAVOURS
ABOUT CLASSIC SENIOR
As dogs age, their physiological systems slow down. This influences their vulnerability to a variety of health conditions which can be managed when accommodated with a senior diet. At this life stage it is especially important to keep your dog slim, active and healthy. Overweight dogs are susceptible to similar health risks as senior dogs and can benefit from a senior diet.
Classic Senior available in 2kg, 5kg, 10kg and 25kg bags.V17612 (Act 36 of 1947)