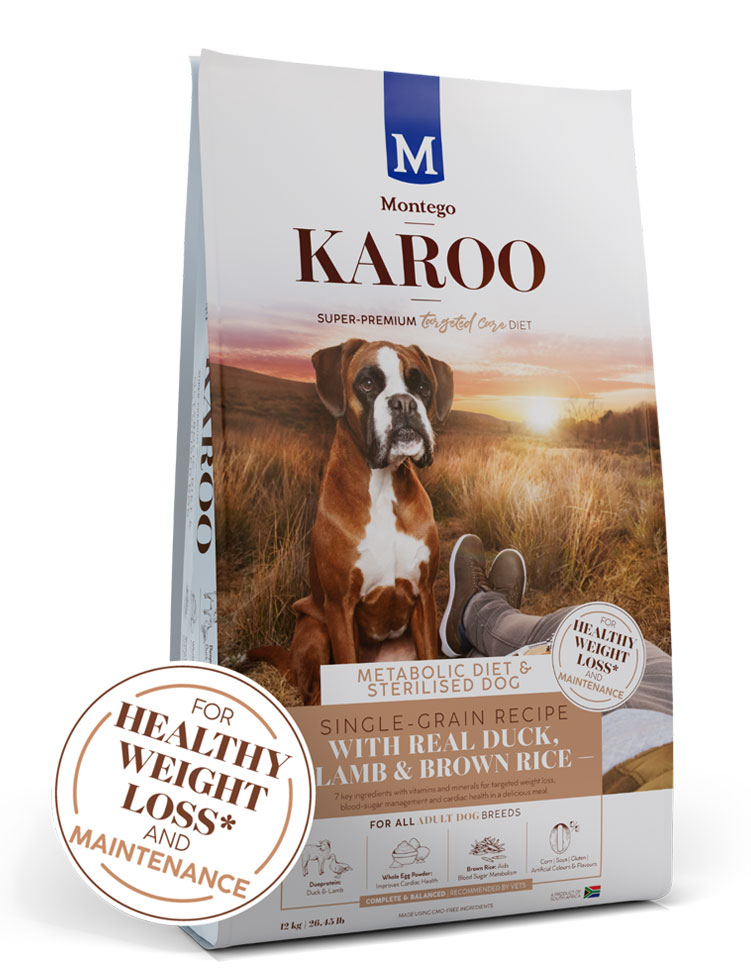 ALL BREED ADULT
METABOLIC DIET & STERILISED DOG
SINGLE-GRAIN RECIPE WITH REAL DUCK, LAMB & BROWN RICE
Super-Premium Targeted Care Diet for Adult Dogs

DUOPROTEIN:
DUCK & LAMB

WHOLE EGG POWDER:
IMPROVES CARDIAC HEALTH

BROWN RICE:
AIDS BLOOD SUGAR METABOLISM

CORN | SOYA | GLUTEN | ARTIFICIAL COLOURS & FLAVOURS
COMPLETE & BALANCED | RECOMMENDED BY VETS
ABOUT KAROO ALL BREED ADULT DOG
This nutrient-rich, super-premium recipe has been scientifically formulated for adult dogs that are either sterilised or require more control over their metabolism. Optimally balanced Montego Karoo Metabolic Diet & Sterilised Dog helps control weight*, manage blood sugar levels and support cardiac health.
Karoo Adult Targeted Care available in 3 kg and 12 kg bags.
V26917

(Act 36/1947)