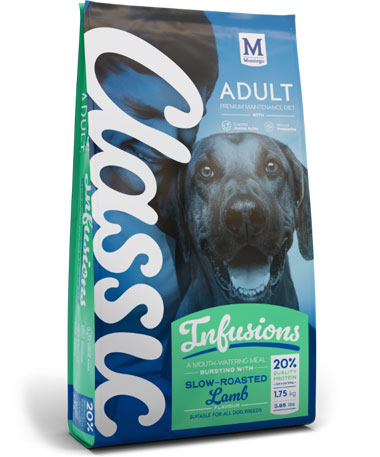 ALL BREED ADULT
A mouth-watering meal bursting with slow-roasted lamb flavour
Premium maintenance diet with essential amino acids and natural prebiotics.
QUALITY PROTEIN
ESSENTIAL AMINO ACIDS
NATURAL PREBIOTICS
ESSENTIAL VITAMINS & MINERALS
SOYA & ARTIFICIAL COLOURS
ABOUT CLASSIC INFUSIONS ADULT
As trusted leaders in pet nutrition since 2000, we understand that your dog's health and happiness are important to you. That's why we've developed a premium, balanced diet that meets all of their nutritional needs while providing a burst of delicious flavour that will have them looking extra forward to mealtime! Suitable for All Breeds.
Classic Infusions available in 1.75 kg, 8 kg and 18 kg bags. V33108 (Act 36 of 1947)